Deux Pas Vers L'Autre, The humanist and eco-responsible Thru-hike of Southern Europe.
From Portugal to Turkey, a 10,000 km walk to meet with Europe
For years, we had been dreaming of trekking across Nepal, thru-hiking the PCT in the USA or hiking along the Silk Road… We knew we wanted to experience a journey across borders, but we did not really know where and how… until last February.
We thought for a long time that adventure has to take you far away, somewhere remote and somehow exclusive. We thought wrong.
Over the time, we came to realize adventure has nothing to do with distance or remoteness. It is about breaking down what you think you know, killing preformed myths you might have about the world and yourself, confronting what you believe with what's real. That approach led us to see that the best place to start any exploration was on our doorstep, it is our own continent.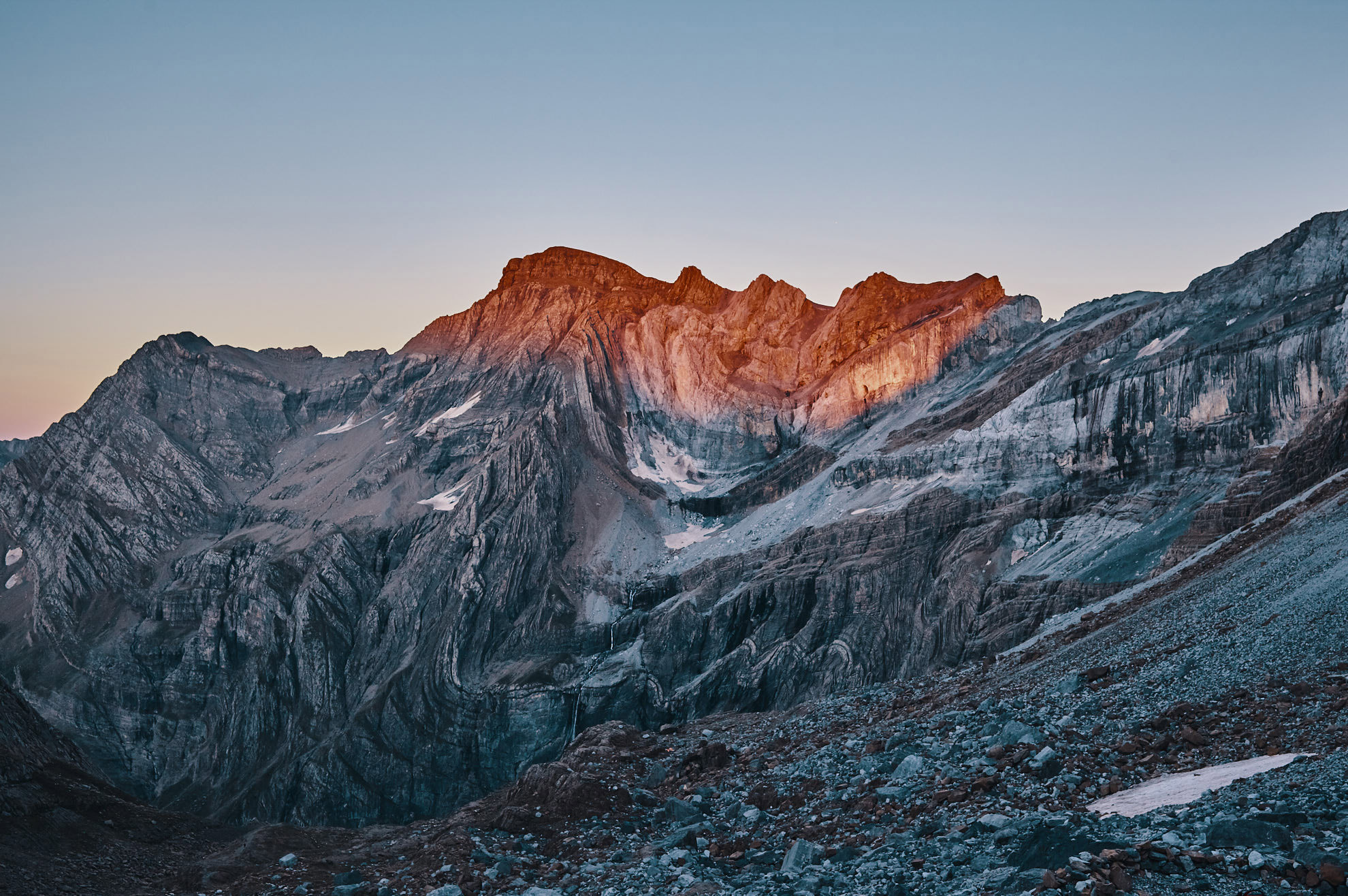 2PVA, a unique 2.0 thru-hike
Deux Pas Vers L'Autre means Two Steps Towards Others, it is our great European thru-hike, 17 countries, 10,500 kilometers (6800+ miles), more than 500 days, 4 seasons, and a 100+ of natural parks. It is a unique adventure we decided to share with the rest of the world using the most modern tools available. We want to fully experience wilderness and carry photo and video equipment so that we could share our adventures in real time through our website and social media.
We want to document this 17 months encounter with our continent and its inhabitants. Those people who live far from cities often are the last keepers of local traditions and culture and these jewels of humanity tend to vanish in our fast changing societies.
The Birth of the project
When we first thought about the project, Marie was on the verge of switching life and changing job and I was myself getting quite tired of my job which I felt couldn't fulfill my spiritual quest. Marie had a golden position as a human resources executive in charge of a bunch of countries for a big company, the kind of career many would stick to and that implies a high level of responsibility. Overall, she felt her life was somewhere else, closer to ground and more in tune with the life ethics she had in mind for everyone's future.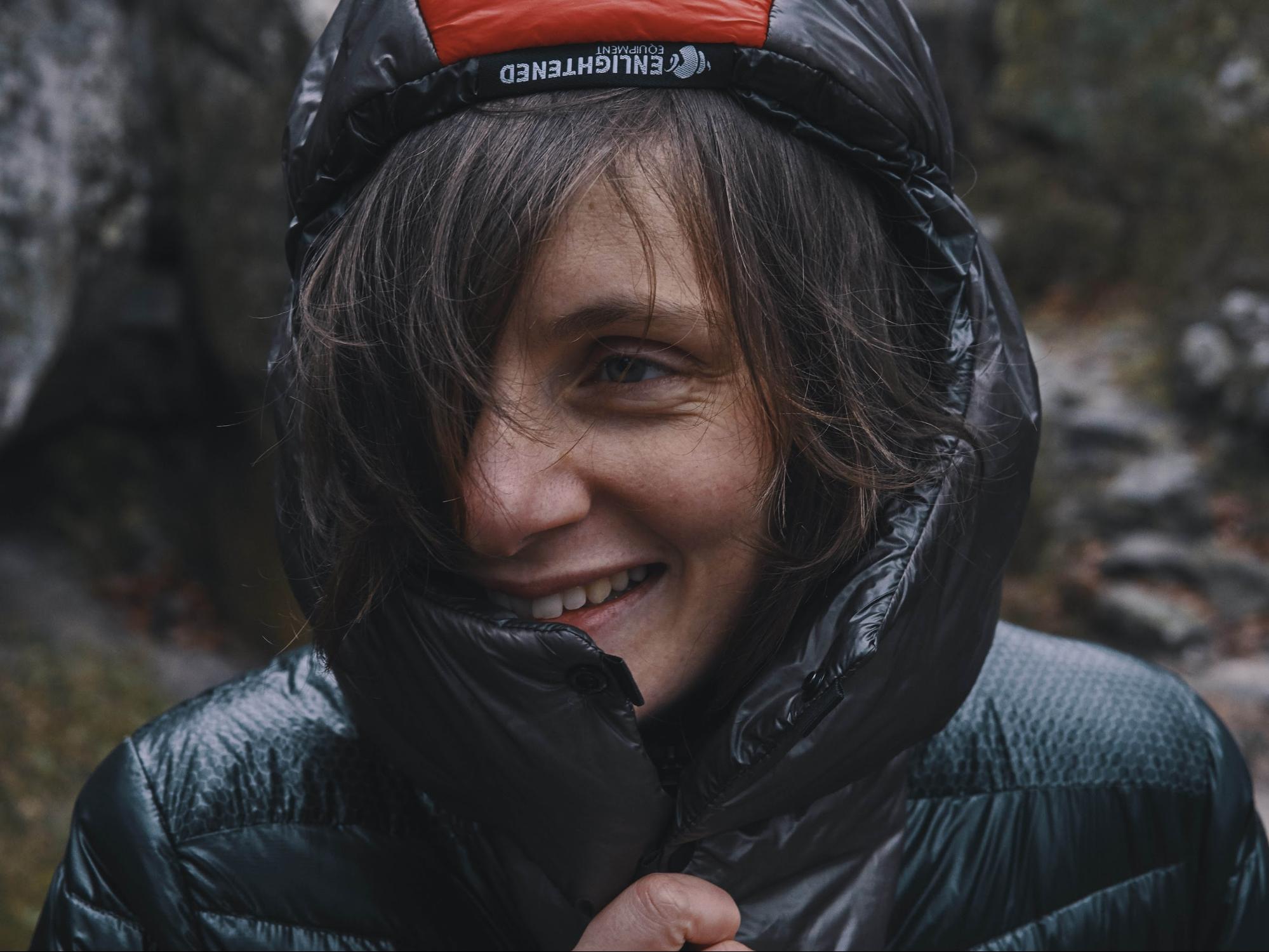 As for me, I have been a fashion photographer for the last 7 years, shooting for magazines, brand campaigns, catalogs… Don't ask how or why it's been so long… life is strange, sometimes... You get an opportunity, and another, weeks fly by and months later, you find yourself doing something you had not really planned… And like Marie, I just got tired of this life after a while and felt the need to dedicate my time to bigger things. We were on the same carpe diem page, we wanted more adventure, more serendipity, so the next step was easy to make. A few months later, Deux Pas Vers L'Autre was born.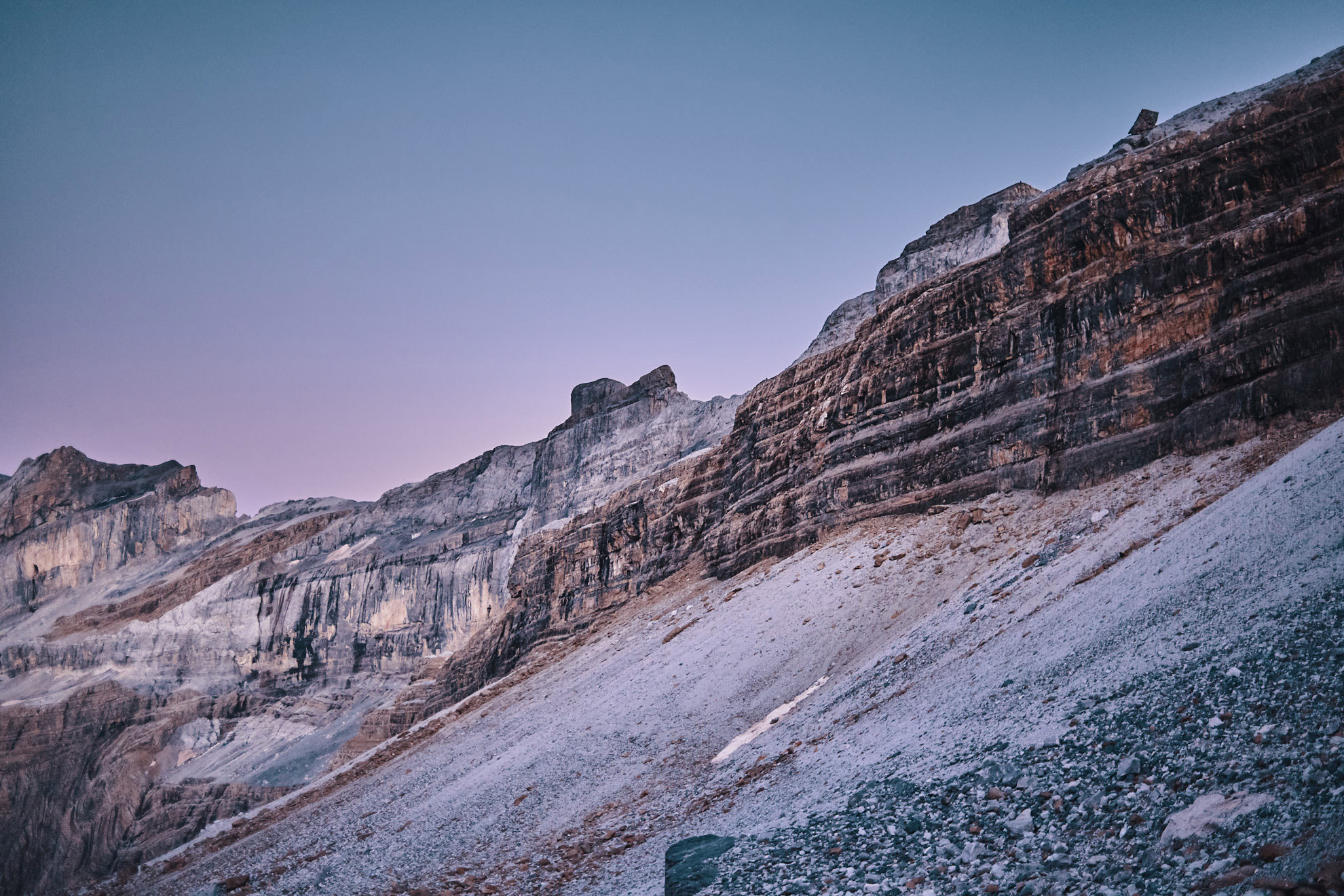 Why Europe?
Marie and I traveled a lot before we decided to undertake this journey. At some point, we realised we knew a lot about Thai culture, Inca civilisation or the microclimates of the Grand Canyon but we were unable to form any clear picture of, say, what any Balkan countries could be like.
I mean, they are our neighbors, we have so much in common as far as culture and history are concerned... How come we barely know each other?
After making this statement, we decided that even if it might be more glamorous to aim for an exotic part of the world, our place was in Europe, our land. Our itinerary crosses 17 countries and focuses on the Mediterranean area, the Europe of exchange and colors, and the Alpine rural Europe, where people still live. Europe offers such a wide variety of landscapes with its: deserts, high mountains, swamps and so on... The path we built runs across some 120 natural parks so we will get a taste of everything.
The Old Continent
Apart from its great natural diversity, Europe is also rich with complex history. European paths have a very strong vibe and identity. Year after year, decade after decade, people have set routes that give us today the means to connect all Europe through pedestrian trails. Some of them are only a few years old, others are well-trodden century-old paths or antique routes still here today. Walking on those trails has something special to it. They are a reminder of how transient our existences are.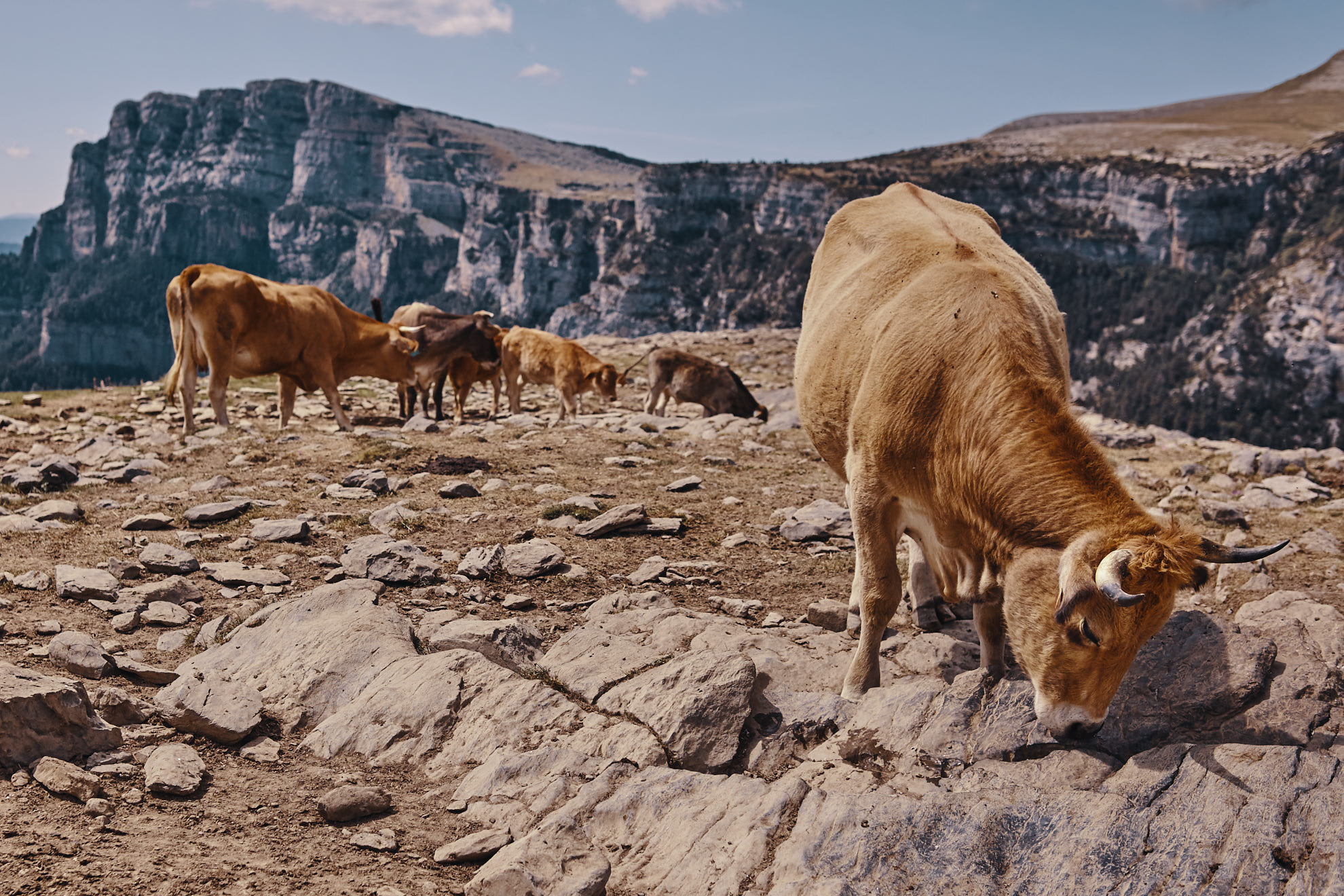 What makes it so different from hiking in the US?
We have not thru-hiked the USA yet, but we both hiked in America on vacation and there are a few major differences when you embark upon such an adventure in the USA and in Europe. The first one being language!
Along our way, we will have to deal with no less than 12 different languages so… that could be quite a headache! Our main goal is to meet and share with isolated populations so we will have to study hard if we want to be able to communicate successfully with everyone.
The second major difference might be logistics. Package delivery hiccups can be a hassle for thru-hikers in the USA, but when it comes to shipping stuff to various countries, it is a whole different game. What about France to Kosovo's countryside shippings? How long do they take? Can we rely on delivery schedules? We have to become masters at managing that side of things.
A third difference is getting informations so we could be autonomous in countries where documentation is scarce. You can find guidebooks available in 36 languages about the Swiss Alps, but there are no such things for Albania or Macedonia, for instance.
We are still looking for informations we have not been able to get yet. A few dark spots remain in our overall organization, leaving a large place to surprises and improvisation.
Thru-hiking in Europe
If Europeans have been enthusiastic hikers for decades, the concept of thru-hiking has traditionally been associated to pilgrimage, a humbling, spiritual, soul-searching adventure of self-introspection, no-pain-no-gain style, with nasty loads on your back and heavy shoes on your feet. Over the last 10 years, the idea of a more simple and down-to-Earth idea of thru-hiking has emerged. Famous American long-distance paths like the AT, the PCT or the CD have been sources of inspiration, but this new approach also grew thanks to the setting of long-distance paths across Europe such as the Via alpina, the Via Dinarica, the Rota Vicentina and the 14 E-paths, or European itineraries. The latest innovations in ultralight gear have also been a major factor.
The new freedom of the ultralight
Changing habits can be a slow process and it took a little more time for Europeans hikers to shift to ultralight gear, but change is in progress now and packs are getting progressively lighter. However, the average European base weight still is heavier than an American's. That is something we would like to help change during our adventure through basic principles. Get rid of non-essentials, carry only what you need, know your equipment inside and out, use versatile or multi-purpose items and visualize your kit in a global and logical way.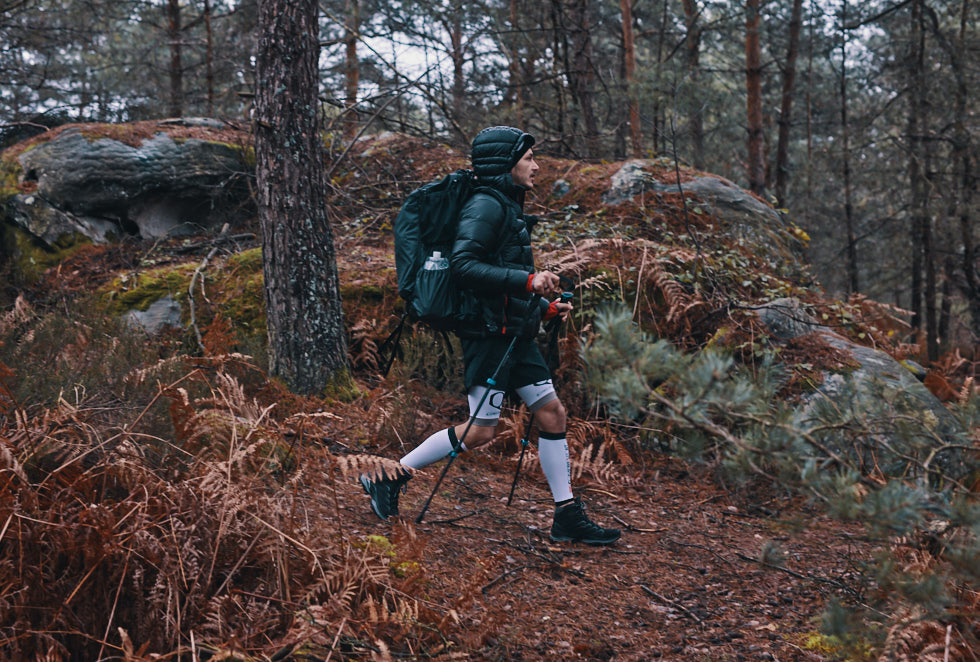 Our equipment
So, our equipment goes a little out of the ordinary as you might see. There is the thru-hikers equipment, and there is the photographer and video editor's gear! It is quite an unusual paradigm, but it is possible today thanks to the last 10 years of improvements in ultralight equipment.
We plan to cross a continent and we will experience different seasons and climates. It is basically like hiking the Appalachian Trail to spend the winter on the PCT! So our pack contents will drastically change, given the season.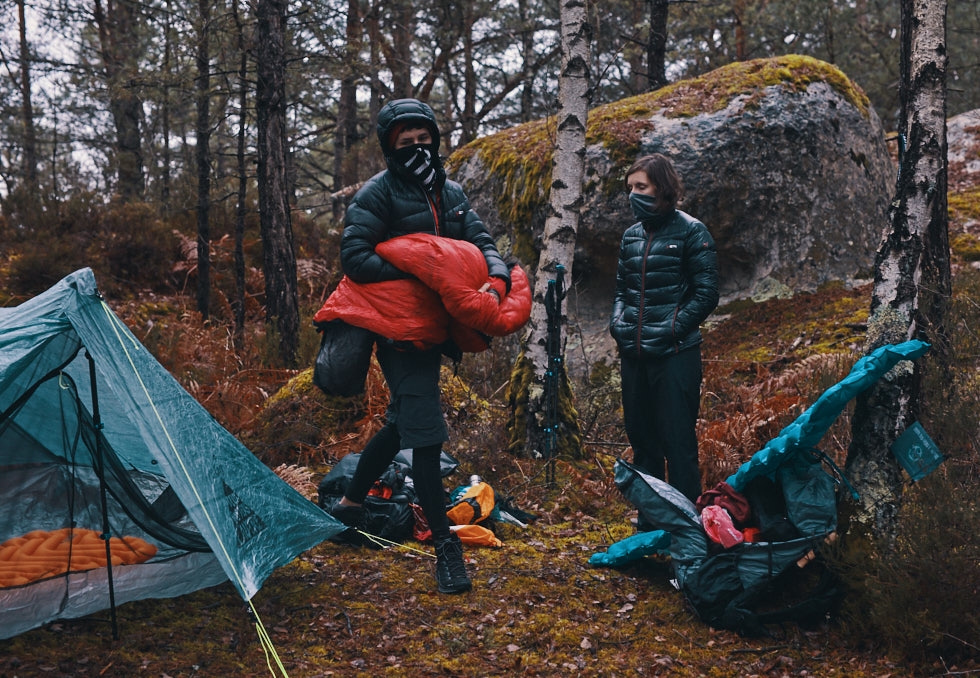 This is mainly why we opted for a layering system with our Enlightened Equipment gear.
- Most of the time, our mid season kit will consist in a Convert 20°F Regular / Slim filled with 950 Down.
- In winter times (we expect temperatures around -15°F), we will add an Apex Convert 50°F over the Convert. Apex Convert offers an enhanced moisture resistance and will protect the down sleeping-bag. The combination of both will enable us to endure the coldest temperatures with the addition of a light bag liner and our base layers.
- For summer, we will rely on the Apex Convert 50°F, extra-light, versatile, easy to carry and fast-drying. It is the perfect bag for summertime.
Why the Convert? Because of its unrivalled versatility! We are both quilt addicts, but we came to realise that on very long and often full of surprises adventures, having a bag is the way to go. As a couple, we appreciate the fact that The Convert provides us with an opportunity to share some comfort and warmth when needed. And we will need that, since we plan to be away for a year and a half, give or take.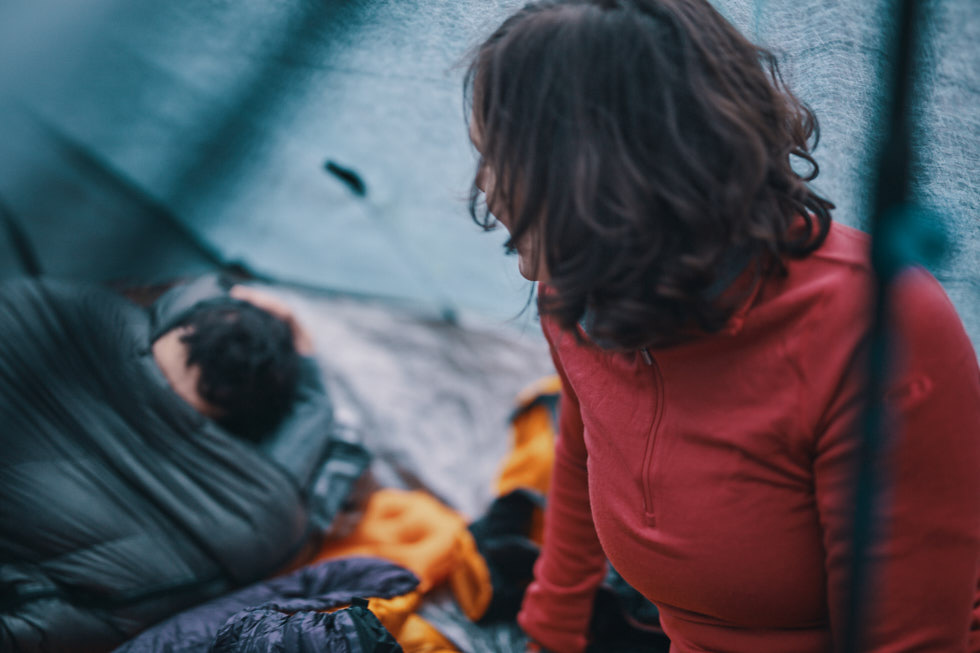 We took the time to go over our gear in details on our website. Gear was a key factor for our project to become a reality and we wanted our readers to benefit from our experience and show them what the "new era gear" looked like!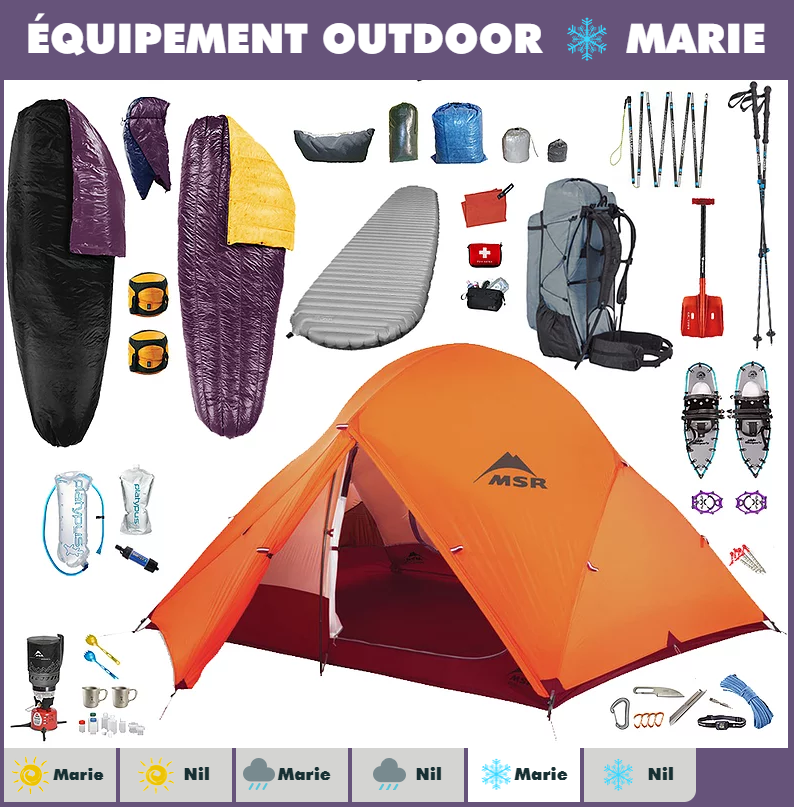 Sharing
We want to share a lot through our website and social media. Marie and I thought it would be particularly interesting to use all the new tools available so that we could offer the most interactive and immersive experience possible.
Hence a couple of unusual features you can find on our website!
In the IN REAL TIME section, thanks to our Garmin "InReach" GPS device, you will be able to track our position and discover villages and locations with us along the way.
In the COMMUNITY section, we invite people to walk along with us and/or invite us for a night under their roof. You will just have to pin a position on the map to get in touch with us or catch up on the way if you live nearby!
In the PICTURES section, you will get country per country photo galleries: landscapes, people, urban photography and, we hope, a hint at adventure!
If you like our pictures, you can purchase some of them at ART PHOTO LIMITED. All benefits go to the association.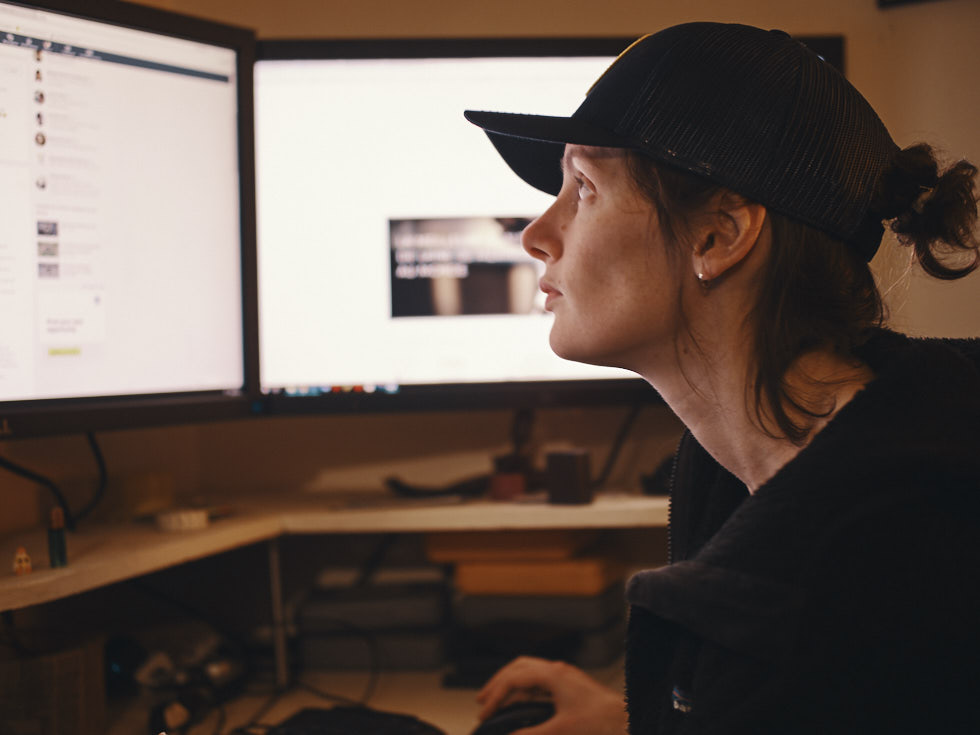 1 KG for the planet
Our association is launching a large-scale campaign for all hikers and outdoors lovers of the world! We care a lot about the environment so we wanted to do something more than just inspiring a different way to travel. Every time we come across waste on a hike it saddens us, so we decided to do something!
1KG FOR THE PLANET symbolizes our efforts on the trails for a greener future. We invite you to take up the challenge and to carry along with your equipment, through all your outdoors adventures, a simple reusable bag.
We encourage people to take on that simple mission with us; collect all the waste you can find, focusing mostly on non biodegradable items.
The point is to make this a habit without overloading ourselves doing so. Our objective is to collect the equivalent of a kilogram (approx 2.2 pounds) of waste in between two trash bins.
Collect along! Every time you collect 1kg, the challenge is accomplished!
Then, inspire the world and your community to do the same, post pictures on social media! Be creative, make a funny set up of your garbage bounties! ;)
Use our Facebook community group and the hashtag #1kgfortheplanet over Instagram to encourage your friends to join the effort and let's be stronger together!
D-Day on February 4th
Step outside and let the adventure begin! Meet with others, forget time and social pressure.
We want to show that adventure and the unknown are everywhere, you just need to take that chance and grab it when it comes. As of February 4th, we are off to Turkey! We are EABOs, aka East bounders :)
Follow our adventures on our website and social media!
www.facebook.com/deuxpasverslautre
www.instagram.com/deux_pas_vers_lautre