Global Lanes Bicycle Tour: Part 2
We cycled along a beautiful winding path, through lush forest and vibrant ferns, enduring unrelenting Northern-Atlantic rains. We are now in Scotland and embracing the dark cloudy skies that swallow up any hint of sunshine.
As we approached Loch Ness, literally, Michael stood to pull up his rain pants while we were cruising along a mossy bridge. The next thing we know we are both flat on the ground with a tandem bike and four panniers on top of us. It happened in an instant. Our wheels slipped out because Michael was concerned he was showing too much crack…
Fortunately, we were left with only muddy panniers and pants, a slide-streak that covered at least 10 feet of the bridge, and an entertained/empathetic group of hikers that were waiting for us to cross the bridge. Like many other experiences while bike touring we laughed it off and carried on.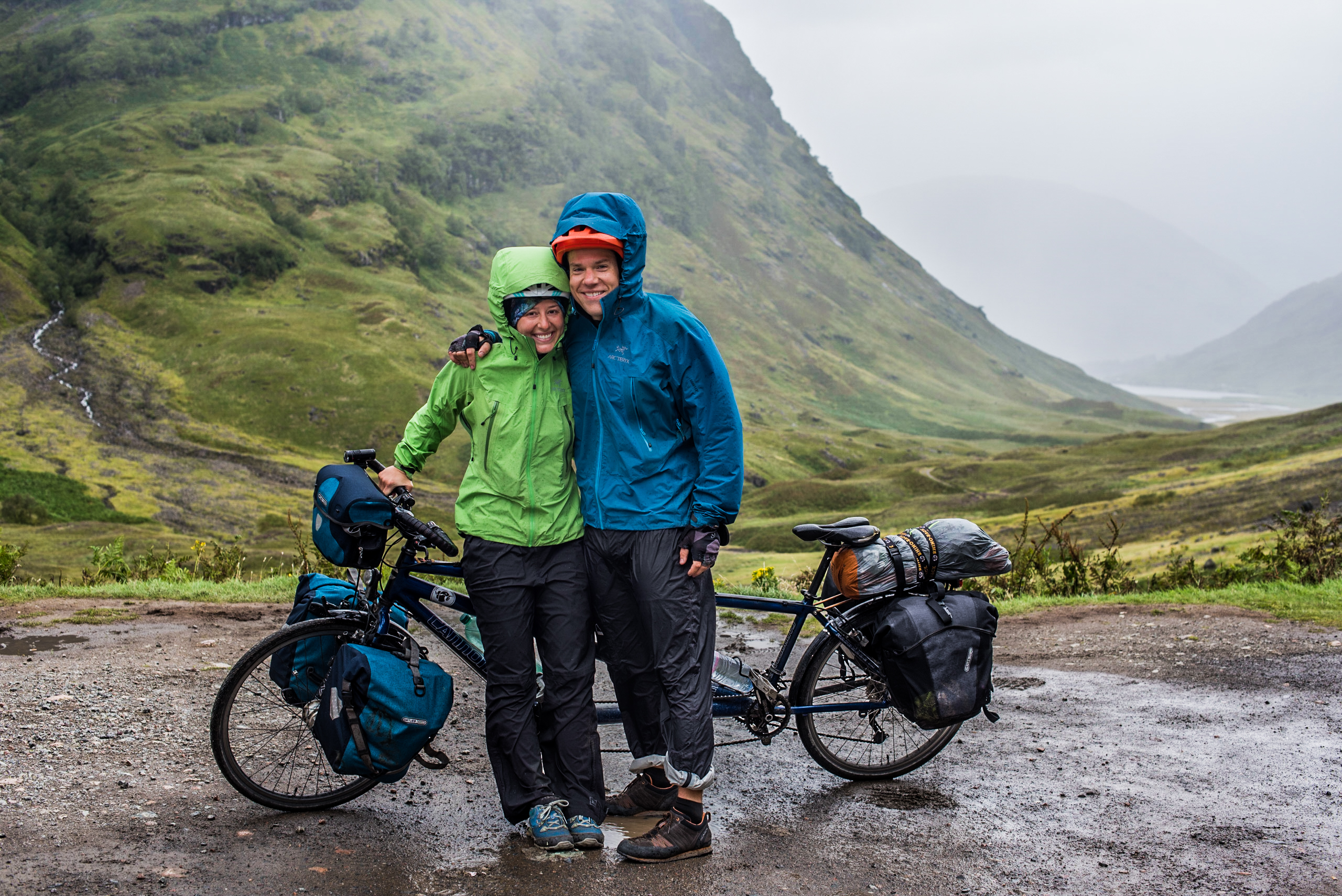 Our time in England and Scotland was by far the most challenging stage we have experienced in the past 18-months of travel. The poor weather was really getting to us both mentally and physically. Camping in cold and wet conditions every night after a cold and wet all-day bike ride is not easy.
However, once the tent is set up and you've changed out of your biking clothes you find satisfaction and security in your 6'x6' of space. Each and every night we were thankful for our dry sleeping quilts and warm food. Often, I would sit inside the quilt bundled up and eat dinner to keep warm.
It was time to move to a brighter and warmer location. We wrapped up the tandem in loads of bubble wrap and flew to sunny Croatia. Once in Croatia our spirits and core temperature soared.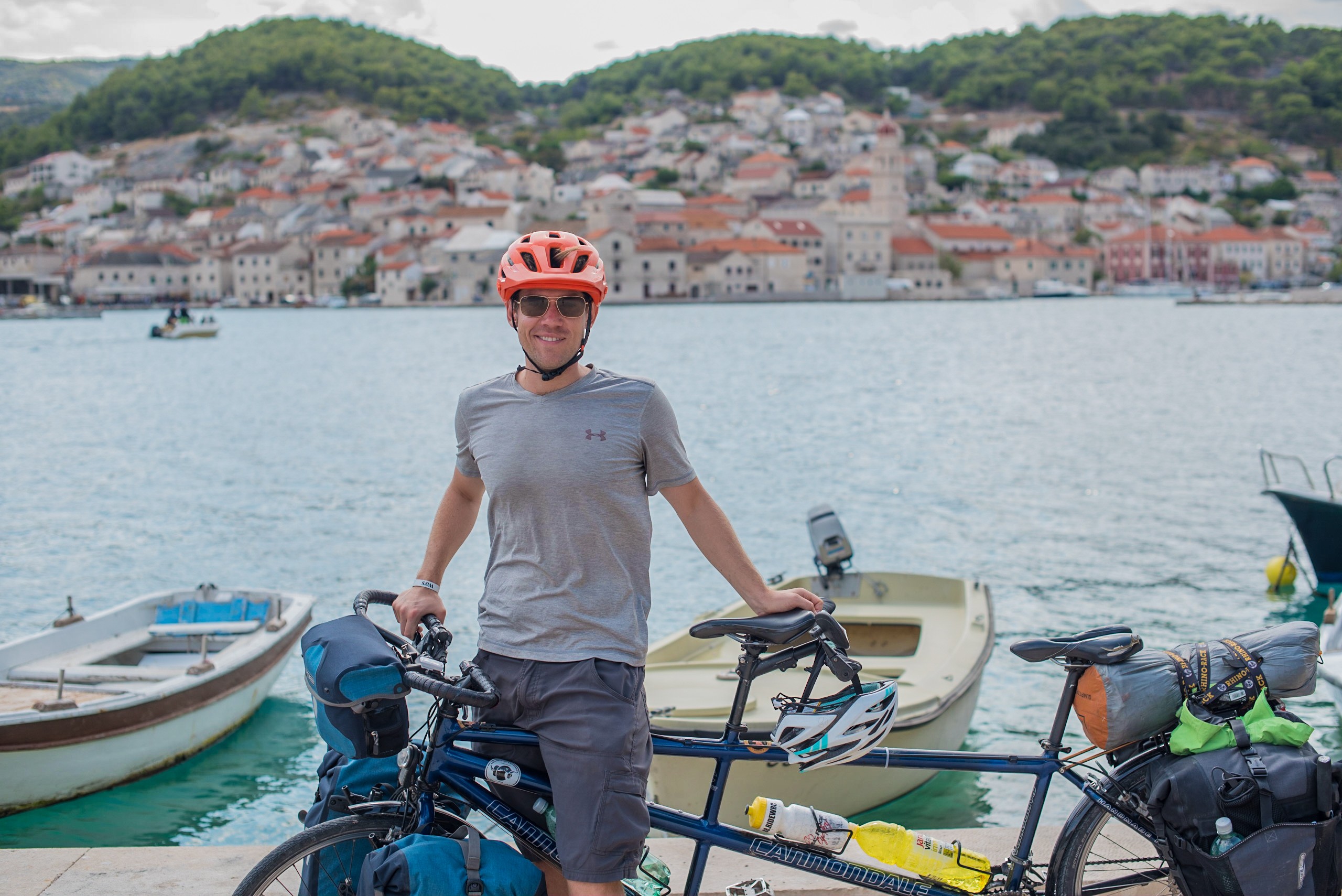 Croatia is a very dynamic terrain with deep blue Mediterranean coast line, quaint white stone villages, mountain ranges that change color with the rising and setting of the sun - from steel greys and ever greens that look nearly black to sandstone oranges and desert tans, islands that were covered with lush forestry on one side and barren sand on the other, beaches made up of skipping stones rather than sand, and personal vineyards in everyone's front yard. We were always a two-days ride from the mountains or the beach.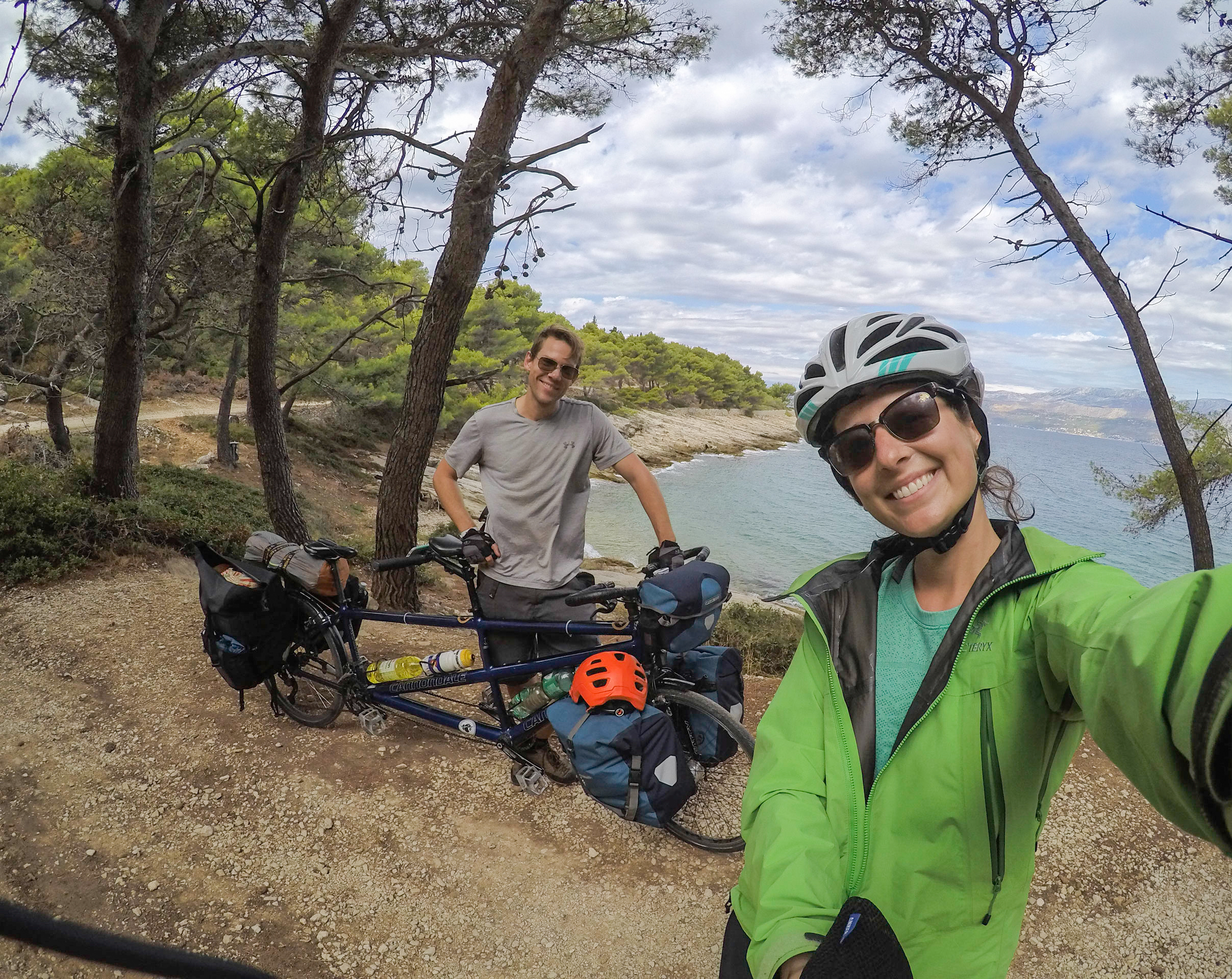 In the U.K. it was often in the 30's at night but once in Croatia temps would only drop to the 60's or 70's. Thanks to the versatility of our two Convert quilts we were perfectly comfortable in both scenarios. We transitioned from sleeping with our two quilts zipped together as one large sleeping bag to stay warm in the U.K. into two individual open quilts that acted like a cool blanket in Croatia.
At this stage we were starting to get a good rhythm on the tandem. Finding a comfortable pace and knowing our limits. Cycle touring is like no other form of travel. It's often full of ups and downs, with moments of complete exhaustion, and moments of total awe. Carrying all your own gear and finding a spot to pitch your tent each night is all a part of the adventure. Cycling from village to village, mountain to mountain, or country to country is something to be proud of, it's something that builds character, and will leave us with very fond, ever lasting memories.
We are excited to be a part of the bike touring community and excited to keep pedaling.
Till next time,
Katy and Michael