Making the Switch – 5 Tips to Lighten Your Pack Weight
My very first backpacking experience was an overnight shakedown on the Superior Hiking Trail almost 7 years ago. I volunteered to be the adult leader for the older scout 3 day Glacier National Park backcountry trek without ever having backpacked before. (No one else volunteered!) So I read a book, went to a couple of classes, talked to some folks and carried the same gear on our shakedown that I would haul on our 3 day trip into bear country.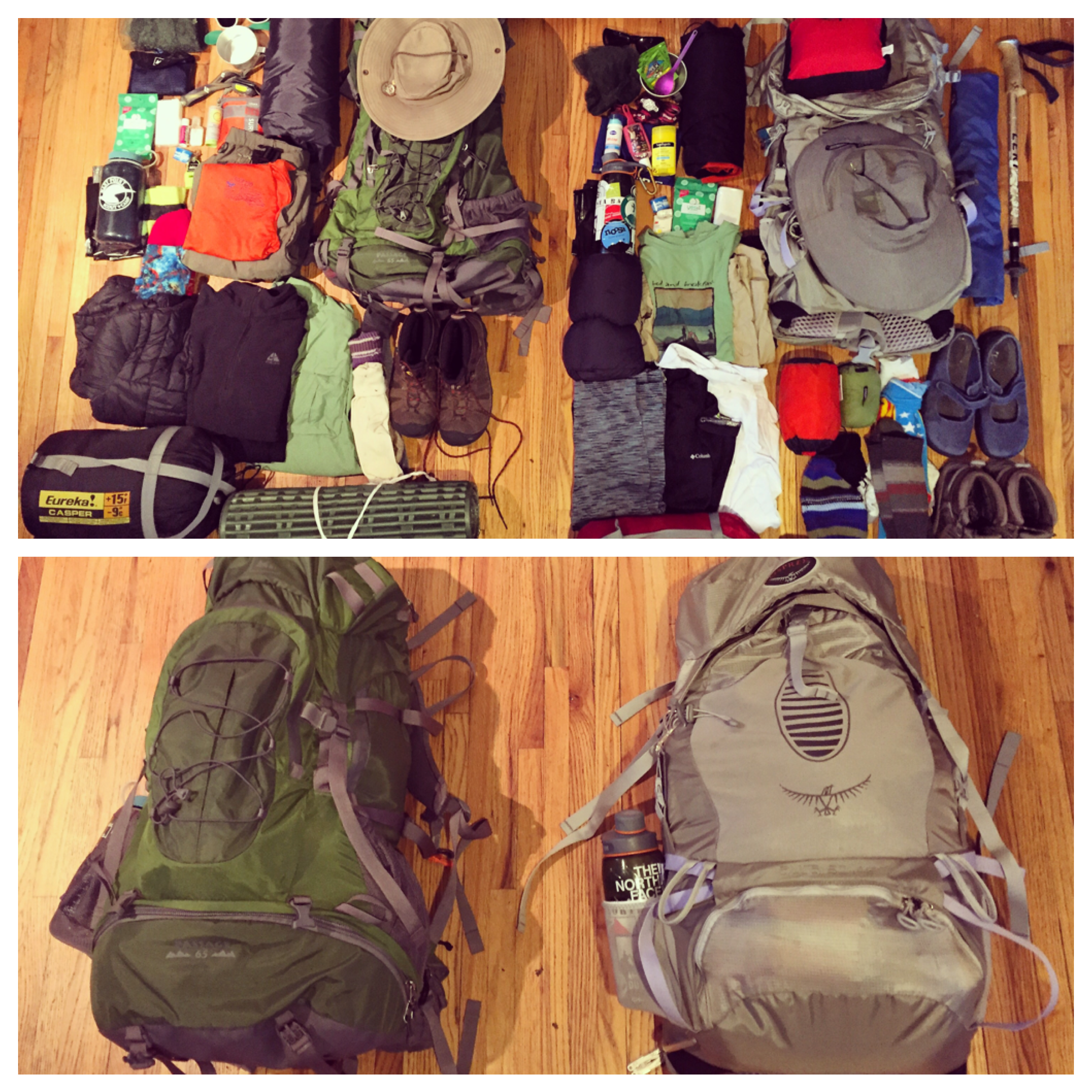 My green 65L pack weighed almost 45 lbs. loaded for that 3 day trip. A couple of years later, when we were prepping for our  Isle Royale High Adventure Trek, I passed that pack down to my son and got my load down to 32 lbs. I was super proud of that!
A couple of years later, I would find myself planning my first thru hike. Pack weight is totally an individual thing, but because of the length that we planned on being on the trail, I was motivated to get my pack down to a sub 25 lb. weight and have less to haul around and keep track of.
Here are the 5 things I focused on that made the biggest difference:
Backpack
Sleeping Bag/Pad
Tent
Clothing
Water
Making the Switch:
(My DIY Pack)
1. Reduce your pack size/capacity and weight of the empty backpack as much as possible.
I started with a 5+ lb 65 L Men's pack that I got cheap but didn't fit me well and encouraged over packing.
Upgraded to a top rated 50 L Women's pack. I reduced 15 L in size to reduce over packing and never missed the capacity! It's a comfy ride, but weighs 4 lbs. empty and haven't used it in over a year.
Making the switch: I realized that I was hauling around features that I wouldn't necessarily need if I just brought less stuff. I knew a couple of people that made their own packs and decided to give it a shot and ditch 3-4 pounds of my back.
I made my own 10 oz. Ray Jardine Frameless backpack kit.  This type of pack isn't designed to carry over 25 lbs. and requires a little more intention when packing, so that's important to keep in mind. I ended up adding 2 more pockets and a lightweight 'store bought' hip belt– doubling the pack's weight, but still only totaling 21 oz., about 4 lbs. less than where I started and works great!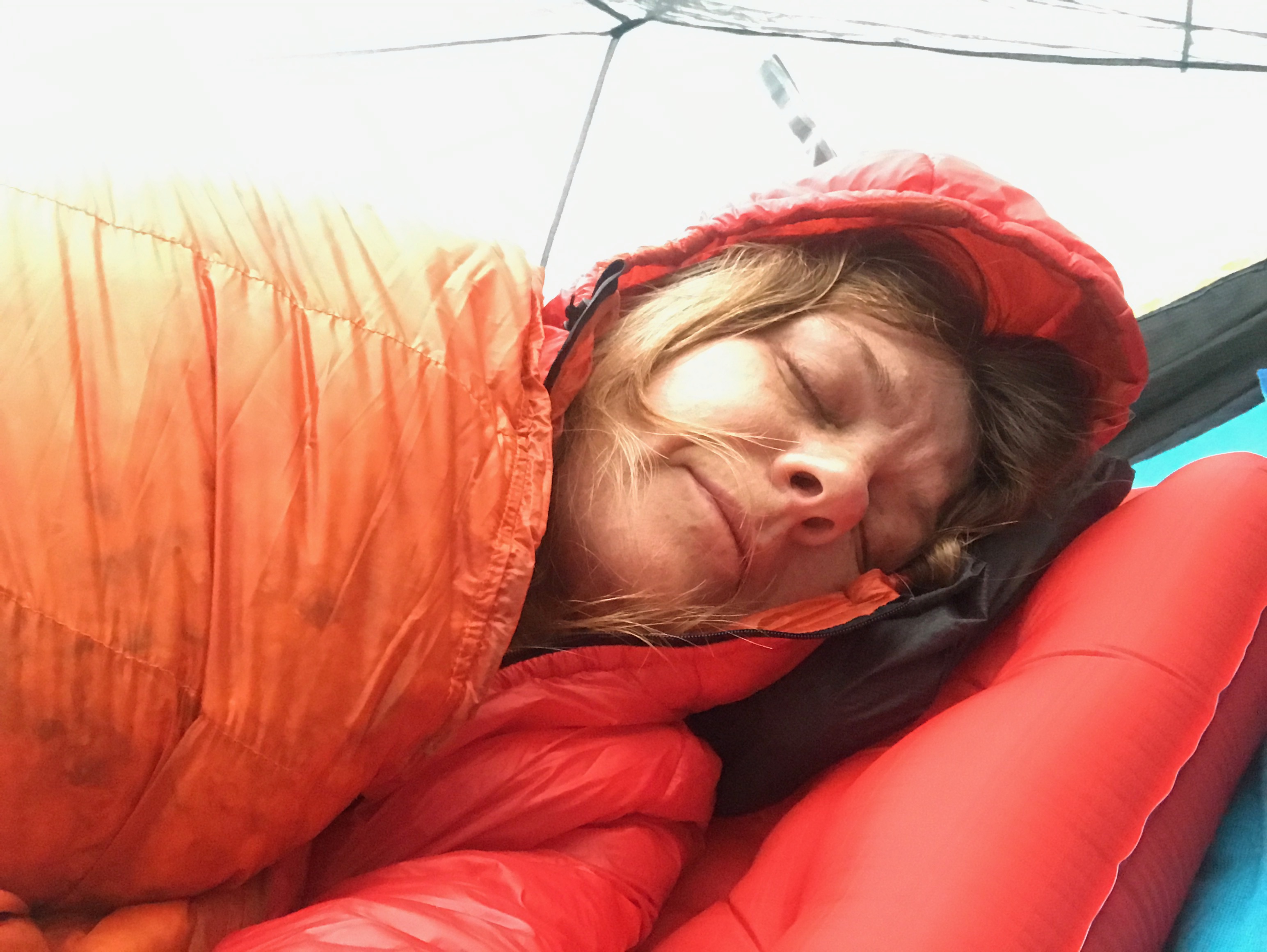 2. Reduce the weight of your sleep set up
I started with a hand me down, down mummy bag…I think it weighed about 5 lbs. and stopped being warm at around 50 degrees when the dew would roll in. I paired it with a conventional self-inflating pad.
Upgraded to a 20 degree bag and a lighter weight inflatable backpacking pad, those two things together helped but still weighed 4.5 lbs.
Making the switch: I read about quilts in gear reviews and other forums and learned about how much lighter and versatile they were than a bag.
Enlightened Equipment had the best reviews and, being Minnesotan, I loved that it was locally made! I sold 3 sleeping bags to buy my Revelation 10 degree quilt and never looked back. Switching to a quilt took a significant amount of weight off my back and I like that I was able to customize it, eliminate unnecessary features and use it as a sleeping bag or hammock under quilt.
And after testing a few pads, settled on the Big Agnes Insulated AXL pad. The combined weight of the two is just under 2.5 lbs.! My Big Agnes pad is super plush but was a tad chillier than I hoped. But the combo worked great for our trip and eliminated almost 5 lbs. from my first backpacking sleep system.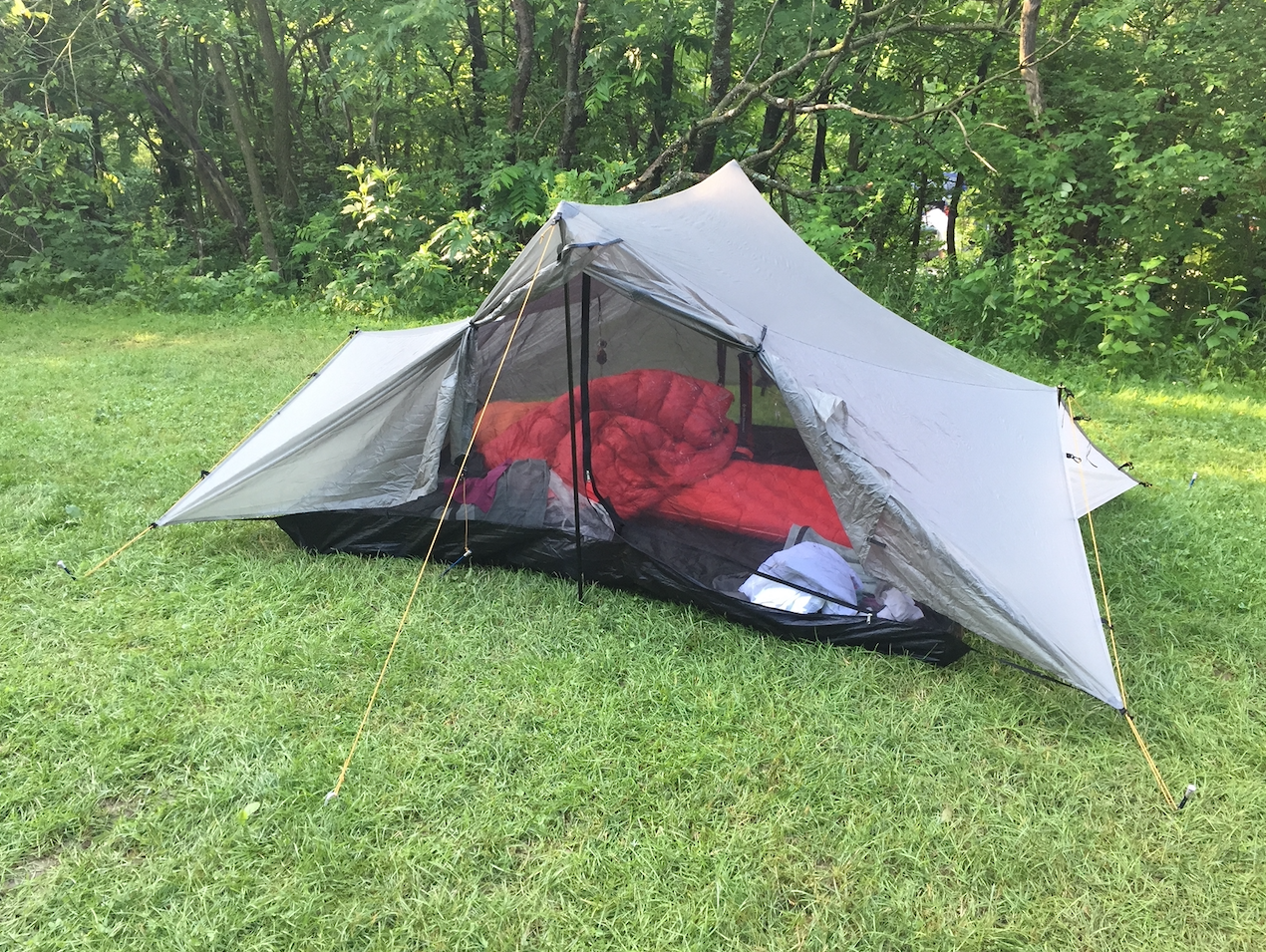 3. Shelter: Consider multi use poles, hammock or splitting the weight with a tent mate.
I bought a 2 person Backpacking tent that weighed 6 lbs. for that first backcountry trip. My only other tent was a roomy 6 person family tent that awesome for car camping! The little green tent is still going strong after 100+ nights in it and belongs to our youngest son now.
Upgraded to an ultralight Hummingbird Hammock with whoopie slings and a tarp. I was able to get a solo set up down to a little under 2 lbs.
Making the switch: Decided to go back to a tent so my sister and I could share a space on our SHT hike and found a used Tarptent Saddle 2. Overall weight is 36 oz. if you use your trekking poles to set it up and 42 oz. if you add the small poles. This fit two of us comfortably and still ended up cutting 4 lbs. off my starting weight.
Note: I'm still working on getting my solo set up down to one pound and can't wait to try the new Enlightened Equipment Tarp with my Hummingbird Hammock.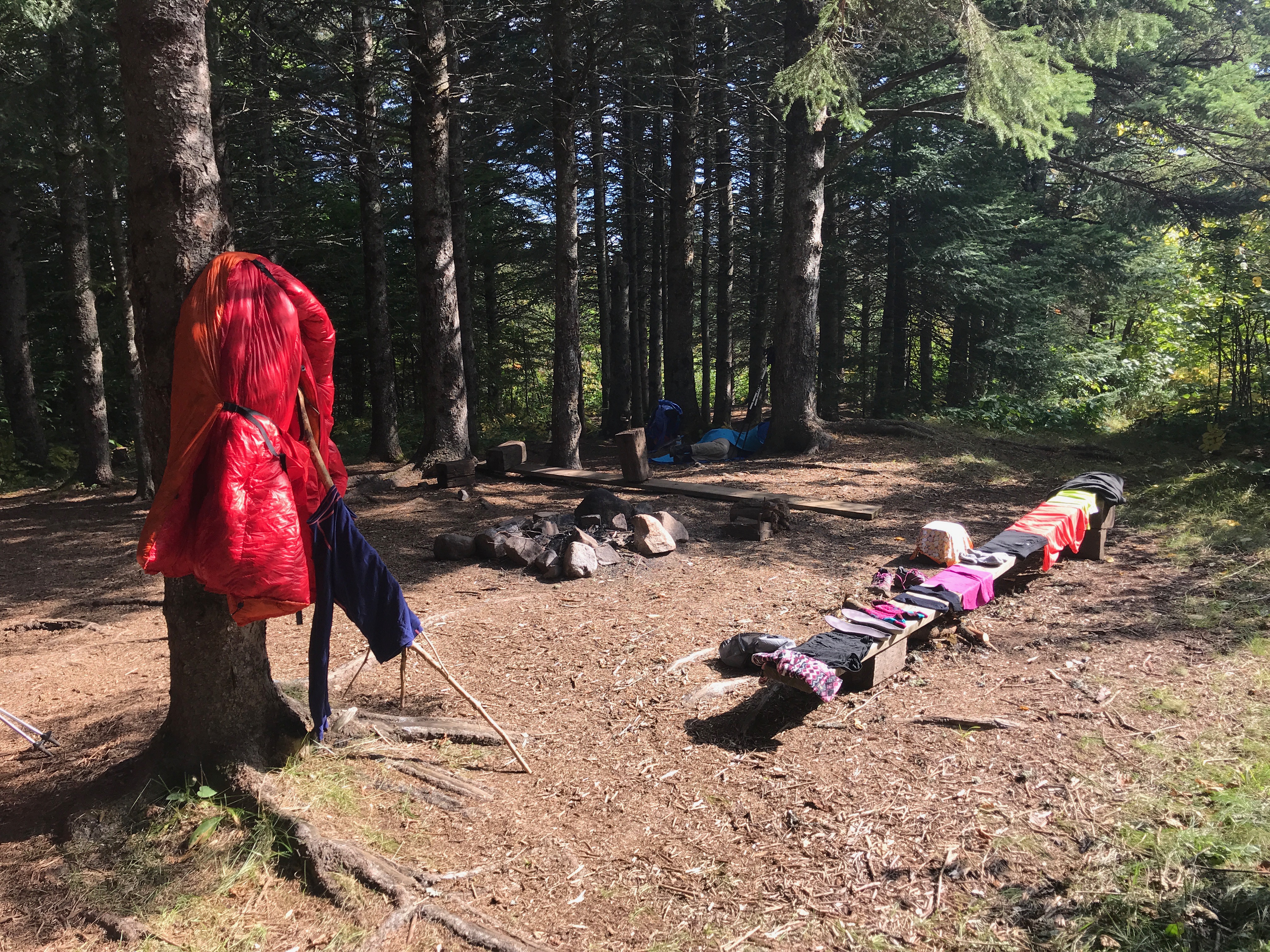 4. Clothing and footwear -bring only what you need and wash on the trail (away from water sources!)
I packed a clean shirt and underwear for every day on the trail and a couple of extra warm layers for those first couple of trips. I didn't weigh all of those clothes but, even after bringing a little less each time, I realized I didn't need most of them
Making the switch:
Footwear: I read that a pound on your foot equals 5 on your back and according to John Vonhof, the author of "Fixing your Feet: Injury Prevention and Treatments for Athletes", the typical leather boot can soak up to a pound of water. So that means you lift an additional 2,212 pounds to walk one mile in addition to the dry weight of your boots! I switched from a Heavy leather hiking boot to a light weight trail running shoe after some foot problems and reading this.
Clothing: I wore the same clothes every day on the SHT and used my long johns as sleeping clothes and as a backup. I still carried just under 5 lbs. of clothing that was not worn every moment, but expected wet and cold weather conditions that required rain gear and warm layers at night.  
Gear highlight: Last summer, I finally replaced my worn out down puffy that's been with me forever with the Enlightened Equipment Torrid Synthetic Jacket. I've been really happy with how lightweight and warm it is, and how quickly it dries. It's proven its value in varying conditions and is my favorite jacket for backpacking, snowshoeing or as an insulating layer during all 4 seasons.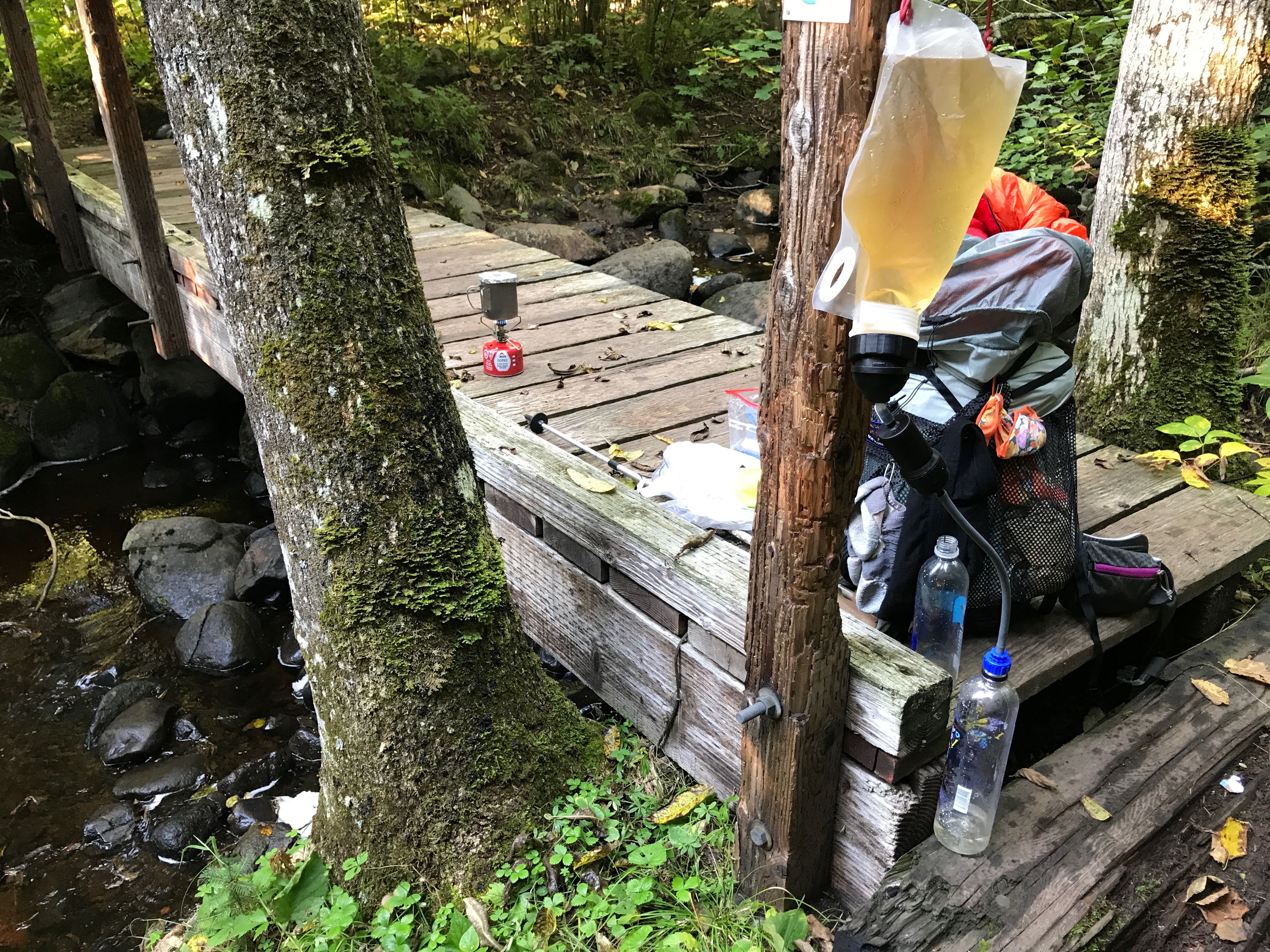 5. Water- know your conditions and water stops.
This was HUGE! My first few trips, I would fill a 3L hydration bladder and also carry a Nalgene bottle. That's 136 oz., well over a gallon and weighs 8.5 lbs.! I'm not going to tell you how much water to carry, but since we were not in extremely dry conditions, this was more than I needed and I packed it out of fear. Ultimately you have to know your body and environment, but it's worth planning your water stops and filtering along the way.
Making the switch:
I switched to carrying (2) 20 oz. Smartwater Bottles, "cameling up" at stops and filtering 2-3 times a day. Even on the driest Northern sections of the SHT, we found water flowing. I did bring my collapsible Nalgene Canteen as part of my DIY water filtration system knowing I could carry more water if it was needed and have some extra at camp for cooking/cleaning. Switching to two 20oz bottles allowed me to carry 7.25 lbs. less than that first trip and I never went thirsty.
The Weigh In!
I spent about a year honing my packing list: selling gear, buying gear, weighing gear, counting ounces, making gear, weighing gear again, researching, talking to more experienced folks, eliminating duplicates and eventually eliminating almost 20 lbs. from my first backpack's weight….but the heaviest and toughest thing I had to eliminate wasn't even on the list above…
FEAR
It's one thing to be prepared. But learning to bring only what I need and not allowing fear to overly influence my decisions is something I will probably work on for the rest of my life. I remember bringing extra clothes and socks for Scouts and a HUGE First Aid Kit on that first trip. AND carrying the most ridiculously huge 2 lb. Summer Sausage! Food fears can be especially heavy. Be prepared, but also trust yourself to know what you really need. I also make a detailed packing list and circle unused items when I get back home.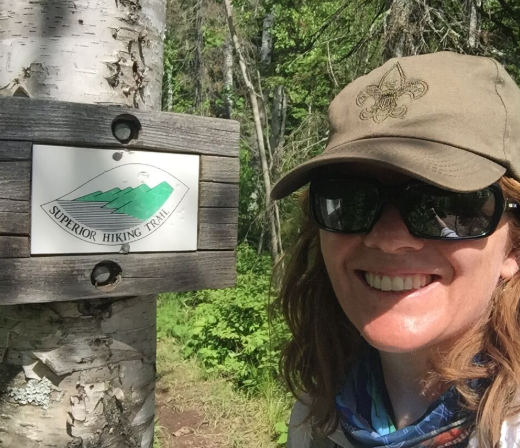 Final thoughts on Lightening Your Load!
Reducing your pack weight isn't just about counting ounces or buying fancy expensive gear. I try to buy used gear when I can and have enjoyed the continuous process of simplifying my needs and possessions. It's started to flow into other areas of my life, and it feels good to live on a little less. When you carry less, it's easier to pack and unpack each day, and stay organized since you don't have a bunch of extra items to sort through. The mental benefits of carrying less are just as beneficial as the physical benefits and you don't have to spend a fortune. There is no perfect pack weight, or perfect piece of gear… I learned that it starts with the little decisions, just pick a place to start and whittle away at it until you get to where you want to be.
Happy Trails!
- Wandering Pine