Enigma - Draft Collar - 850 - 20°F (-6°C) - Long/XWide - Forest 10D/Charcoal 10D (204456.001)
27.13 Ounces
Ships in 2-4 business days. | International customers are responsible for Import/Duty fees.
---
---
Specific Quilt Details:
Down Fill: 850
Temperature: 20°F (-6°C)
Length: Long
Width: XWide
Outside Fabric Color: Forest 10D
Inside Fabric Color: Charcoal 10D
Draft Collar: YES
ISSUE WITH QUILT: NONE

______________________________________________________________________________________
Sizing | Intro To Quilts | Limited Lifetime Warranty
Description:
The Enigma is our lightest and most minimalist quilt. Pairing the beloved quilt template of our Revelation Quilt with a completely sewn-closed footbox, it's the perfect ultralight quilt for those who always get cold feet. Exceptionally warm as well as extraordinarily light, the Enigma offers upper body freedom of movement, while providing structure for your feet. The Enigma doesn't have a zipper or a built in hood, saving even more space and weight in your pack.
The Enigma is a quilt, not a sleeping bag, which means it's designed to be used with a sleeping pad to provide insulation underneath you, between you and the ground.
Need your Enigma Quilt right away? Shop our ready to ship Enigma Quilts.
Details:
20" zipper, and drawstring, to open or close the footbox as needed.

Pad attachment system using elastic straps, and clips on each side of the quilt, to keep you securely on your pad, and give you the ability to cinch down the sides on those cold nights.

Snap and drawstring neck closer, fits securely around your shoulders to fine-tune draft control.

U shaped baffles keep the down where you need it, all night long.

Half taper design to minimize weight while reflecting the natural shape of the human body.

Ethically sourced down from an RDS certified supplier that verifies that none of the down in the supply chain is acquired through live plucking or forced-feeding.

Draft Collars add extra warmth, while adding little weight. Adding a 10D liner adds 0.99oz to total weight, and adding a 7D liner adds 0.93oz to total weight.

10D fabric made of a customized, lightweight and durable nylon that offers breathability and comfort.

20D ripstop nylon that has been customized to increase comfort and offers higher durability and water resistance.

7D micro ripstop nylon for lowest weight options. Note: 7D is slightly less downproof than the other fabrics, so when choosing this option, be prepared to treat your gear with care.

Handmade in Winona, Minnesota.
Included with quilt:
Silnylon Stuff Sack (.3oz-.8oz)

Elastic Straps x2 (0.4oz each - One Straight, One Loop)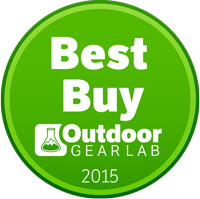 Subscribe to our newsletter!