Revelation H.E. - Draft Collar 850 20°F(-6°C) Reg/Reg Forest 10D/Black 10D (121410.02)
22.10 Ounces
Ships in 1-2 business days. | International customers are responsible for Import/Duty fees.
---
---
Specific Quilt Details:
Down Fill: 850
Temperature: 20°F(-6°C)
Length: Regular
Width: Regular
Outside Fabric Color: Forest 10D
Inside Fabric Color: Black 10D
Draft Collar:Yes
Issue With Quilt: On the shell there are needle marks at the top of the 3rd chamber from the left; and at the bottom right corner of the 1st chamber up from the bottom. Taped a couple of the small holes on the bottom area.
______________________________________________________________________________________
Scratch & Dent Items:
Occasionally we have in-stock items that are prototypes, discontinued models, production 2nds, or returns. Items that are productions 2nds or were returned with issues, will be discounted and have a description about the issue. All Warehouse items are covered by our warranty, excluding any specifically mentioned issues on discounted items.
Sizing | Intro To Quilts | Limited Lifetime Warranty
Description:
With an amazing balance of low weight and high functionality, the Revelation-H.E. is the choice if you're primarily a hammock camper. We've eliminated our pad attachment system and trimmed down the width, so you carry only what you need. When it's cold simply close up the footbox or when it's warm, open it completely and use this quilt like a blanket. Build your Revelation-H.E. to meet your performance needs without carrying any unnecessary weight. The Revelation-H.E. is the most versatile hammock quilt available and is perfect for anyone that would rather sleep in the air than on the ground.
Using a foam foot pad for insulation? Punch two small holes in your pad and use our proprietary toggle system to attach any foam pad to your quilt so it doesn't slide around while you sleep.
Details:
20" zipper and drawstring to open or close the footbox as needed.

Snap and drawstring neck closer fits securely around your shoulders to fine-tune draft control.

U shaped baffles keep the down where you need it - all night long.

Half taper design to minimize weight while reflecting the natural shape of the human body.

Foot pad toggles to keep a foam pad where you need it.

Ethically sourced down from an RDS certified supplier that verifies that none of the down in the supply chain is acquired through live plucking or forced-feeding.

Draft Collars add extra warmth, while adding little weight. Adding a 10D liner adds 0.99oz to total weight, and adding a 7D liner adds 0.93oz to total weight.

10D fabric made of a customized, lightweight, and durable nylon that offers breathability and comfort.

20D ripstop nylon that has been customized to increase comfort and offers higher durability and water resistance.

7D micro ripstop nylon for lowest weight options. Note: 7D is slightly less downproof than the other fabrics, so when choosing this option, be prepared to treat your gear with care. Read more about our Fabrics.

Handmade in Winona, Minnesota.
Included with quilt:
Silnylon Stuff Sack (.3oz-.8oz)

Elastic Straps x2 (0.4oz each - One Straight, One Loop)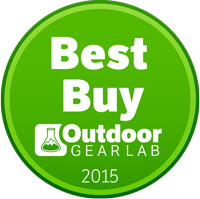 0 Reviews
Be the first to review this product.
Add a Review