Accomplice
27.23 Ounces
Ships in 1-3 weeks | International customers are responsible for Import/Duty fees.
---
---
Sizing & Specs | Intro To Quilts | Limited Lifetime Warranty
Description:
The Accomplice is the highest value two-person quilt available.This quilt specifically features a sewn-closed 3D footbox that provides ample room for you and your partners feet while limiting dead air space that needs to be heated.When it's warm, use it like a blanket and kick a foot out. When it's cold, cinch down the sides with our pad attachment system. The Accomplice is perfect for hikers, canoeists, kayakers, climbers, and cyclists who need minimal weight, maximum warmth, and room for two.
The Accomplice ships with our standard Accomplice two pad strap. For more options, check out Accomplice Pad Straps, if you need extras, replacements, or to work with our customer service team to order your quilt with the strap you need.
Details:
A sewn-closed 3D footbox minimizing weight and maximizing warmth.

Pad attachment system using elastic straps, and clips on each side of the quilt, to keep you securely on your pad, and give you the ability to cinch down the sides on those cold nights.

Our proprietary draft blocker between the neck enclosures, along with snaps and drawstrings, allow either sleeper to cinch tight or open up their side of the quilt, for independent temperature and comfort control.

U shaped baffles keep the down where you need it, all night long.

Ethically sourced down from an RDS certified supplier that verifies that none of the down in the supply chain is acquired through live plucking or forced-feeding.

Zero PFC DownTek treated down which helps the down resist moisture longer, and dry out quicker if it does get wet.

10D fabric made of a customized, lightweight and durable nylon that offers breathability and comfort.

Optional 20D ripstop nylon that has been customized to increase comfort and offers higher durability and water resistance.

Handmade in Winona, Minnesota.
Included with quilt:
Silnylon Stuff Sack (.3oz-1oz)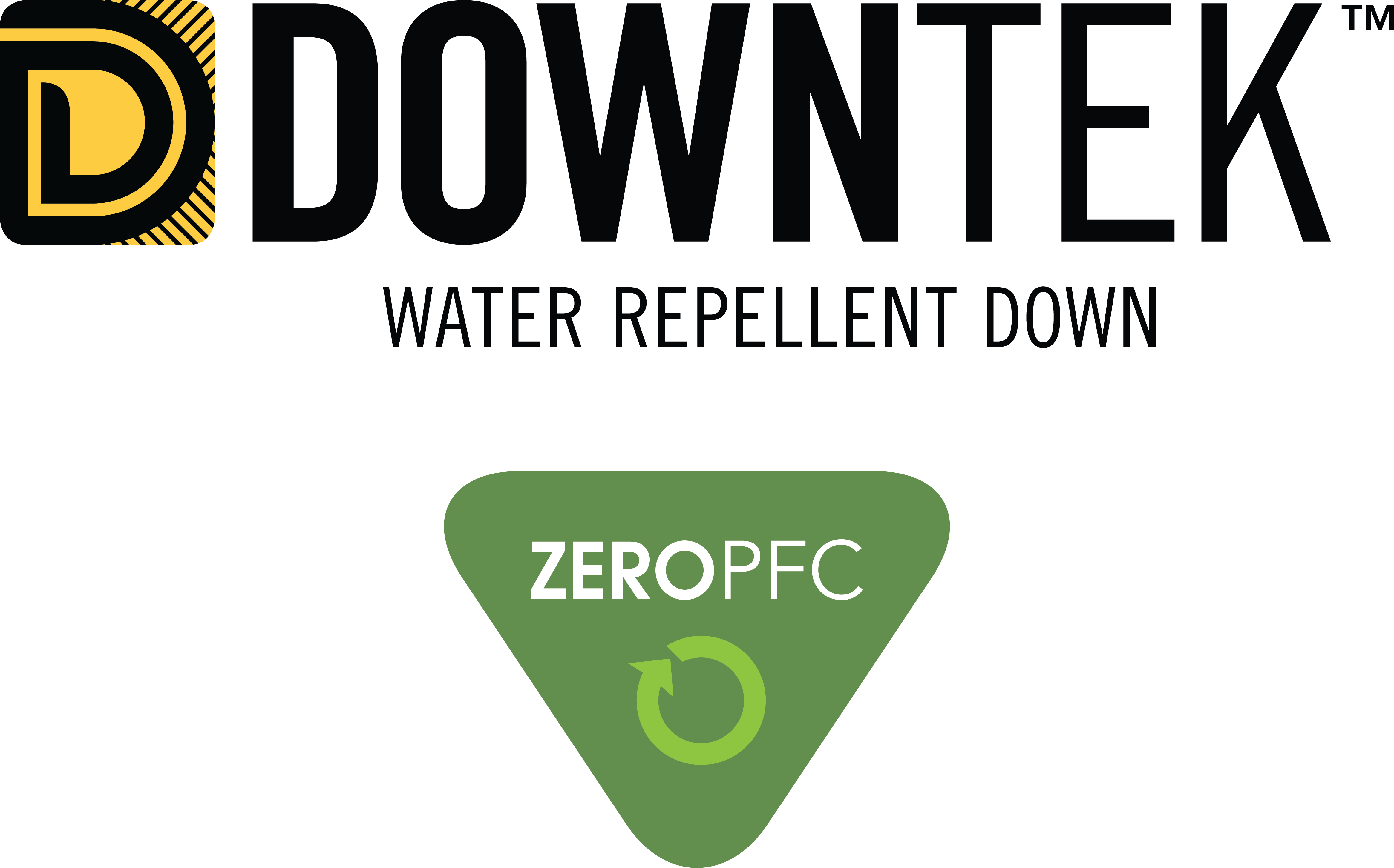 52 Reviews
LOVE
love love love love love this quilt! We have 30* and 0* versions. Simply a dream!
Phenomenal
I can't imagine a better two person sleep system than this. The quilt is ultra light, ultra soft, and ultra cozy. I bought a 10° 950 DT long version and it is absolute bliss when combined with the Big Agnes Q Core SLX double wide sleeping pad. The quilt is great at trapping in heat so you won't be cold, but it's also super easy to stick a leg out if you get too hot. It's truly like sleeping in a bed, you have compete control over how you sleep. The cinches at the top of the quilt are great too if you want to create a mummy bag effect. The quilt packs down so much smaller than you think because of the quality down. This two person system packs smaller and MUCH lighter than anything else, so no more lugging around two heavy and large sleeping bags, free up the space and weight for other things. The quilt is also incredibly easy to stuff back into a compression sack, it isn't a struggle at all unlike traditional sleeping bags. Stop hesitating and buy one if you're looking into it. I promise, there is no better two person system than this.
Accomplice
Very nice. Was a gift for my son for Christmas. He loved it even though it was the wrong one. Enlightened Equipment was nice enough to let me exchange.There is a time limit so pay attention.
Accomplice is a great addition
I ordered the Accomplice after I read a few reviews to add to our camping gear. We are just getting our 4 young children into backpacking, but they can't carry much! So we have to cut weight where we can, and this blanket is perfect! We packed it down small in a compression bag and had plenty of room for everything... plus it looks great! The colors and quality are fantastic! I would recommend it in a heartbeat! We use with our synmat duo and it worked great. Great product, great company!
Don and Susan
8th Nov 2017
Accomplice Quilt
We like others are new to using a quilt...not sure how we would like it. We are a retired couple who backpack a lot...usually 30+ nights a year in the tent. Elusive sleep on our 3/4 length pads in regular sleeping bags was wearing on us. We purchased the Accomplice, 850 Down, long, rated at 30 degrees. We just spent our first night under it at 8000' in the Rincon Mts. last weekend. Loved it! After reading a lot of reviews we went with the Exped Hyperlight Duo pad... we got the long/wide and must say that may be overkill, I think the regular Duo pad would be plenty. The night time temps up there dropped into the upper 30's and with our normal sleeping attire - Patagucci capilene longs and tops - were plenty warm even though we woke to clouds/moisture/fog that morning. Highly recommend the double quilt! Coupled with the double sleeping pad this is a much more natural way for couples to sleep...best nights sleep in the tent than we have either had in several years!
Accomplice
As a life-long, outdoor adventurer, who routinely ventures out and camps in remote settings, I appreciate good, dependable gear that functions properly and makes my activities safer and more enjoyable. I can honestly say that that after a week of use, I have never been more excited with a piece of equipment than with the EE Accomplice! After using various down sleeping bags and zip together bags for two for several decades, I decided to try a quilt, mainly to save weight. We selected a 20 degree 850 fill Accomplice with weather-resistant stripes, made to our custom specifications. Our first use was in the Trinity Alps at the end of this year's long, cold winter. There was still ice on the adjacent alpine lake and patches of snow on the ground around us. My thermometer read 28 on the coldest morning. My girlfriend was wearing a hoodlum, and I, a knit cap. We were also wearing base layers, and heavy socks. She had on her down jacket. She was cold, and I was not. We decided a temperature upgrade was in order, so I returned my clean quilt and ordered the 10 degree thickness. EE gave me full credit for my returned quilt! We just got through with our 6 day, 6 night backpacking trip in the southern Sierras, where we averaged over 11,500 ft in elevation and climbed Mt Whitney as a day hike. On the last night/morning we caught the southern end of the first Sierra snow storm of the season with high wind gusts and blowing snow. Temps got down to under 28 degrees. The 10 degree quilt performed flawlessly and we were both comfortable wearing clothes similar to those previously used. I tried snapping and draw-stringing my neck opening shut, but I did not like the confinement, so I loosely placed my down jacket under the quilt and on my chest. This worked superbly in keeping out drafts on my chest. In the morning, it was extremely difficult to leave this warm comfort and get moving in the harsh conditions outside the tent! Not only does this two-person sleep system save us about half the normal weight of using two separate bags, it is also much more comfortable to sleep under and adaptable to a wider range of outside temperatures and different warmth demands of the individual sleepers. It is possible to both snuggle with your partner for more warmth, or unhook one or both the elastic straps on the edge of the quilt to let out the right amount of excess heat. Oh, and did I mention this USA- made sleep system (with separate hoodlums) costs less than half of two comparable temp rated, USA-made, premium down sleeping bags?! It's a great deal! Thank you EE for making our outdoor experiences much more enjoyable!
Dave & Nancy
9th Oct 2017
Accomplice
My wife and I bought our Accomplice 20 degree 950 to go with our B.A. Q-Core SLX double pad. We had never used a quilt before and were unsure how we would like it, but I must say, we absolutely love our quilt! It is very light weight and packs down nicely into its stuff sack using minimal space in my backpack compared to a double sleeping bag. We ordered the double pad straps and they work perfectly. So far we've used it in temperatures down to the low 30's and we were perfectly comfortable. I believe the 20 degree temperature rating is accurate. The workmanship of the quilt is excellent. My wife and I commented the other day that our quilt is our favorite piece of backpacking equipment. We really love it!
Accomplice
Its hard to find a good quality double bag. This is hands down the best there is out there. My wife and I share it comfortably. As backpack hunters, we were able to shave POUNDS off our packs by sharing this lightweight, roomy, and very comfortable 2 person quilt. I have tried plenty of bags and you can't be the Accomplice.
Oh my god, it's fantastic
Oh my god, this thing is fantastic. We can share body heat and it's roomy enough for everyone. My boyfriend is exactly 6 foot and I wish I had the chance to get a extra long because it's a bit short. But other than that, absolutely no complaints!
james mcloughlin
1st Sep 2017
accomplice
Tested the 20degF quilt up in yellowstone (madison campground) MId August, night time lows of 25deg F, the thing works !!! When we first got in the tent I thought how can something this thin work as we initially felt cold when we got in the quilt. After 5mins we were at near perfect temp, it was like magic, we didn't even need to use neck sintches or straps. We used it here for a week before heading down south via redwoods, yosemite & seqouia. Weird thing was we never sweated even when it got warmer. I've only ever owned synthetic cheap bag till now. This things is a rolls royce (SMUG FEELING ME :-)
Accomplice
25-years packing together and my wife and I finally broke the bank and upgraded our sleeping system. We went from 14.5 lbs. combined sleep system (Thermarest pads & Slumberjack Windriver 20-deg. bags) weight to under 6 lbs. Our biggest surprise was the savings in sleep system volume. Our 10-deg. Accomplice coupled with an Exped Duo mat fits in the sleeping bag compartment of my pack. We just love pulling that magical quilt from such a small space in the pack and watching it expand to completely fill our tent! We've used the quilt on two separate trips, in the Saw-Tooth Wilderness of Idaho and in the Uintah-Wilderness of Utah. We were too hot at nights (July & August) but it is so easy to poke a leg out to regulate body temperature. We went one size longer than recommended for our height to give us the ability to tuck our heads under the covers. We're slim 5'6" and 5' 8" and this quilt swallows us completely! Initially we thought we might have huge air pockets(cold drafts) between us when one slept on the side and the other on the back. No problem. Did I mention this thing is huge? So far the quality of materials and craftsmanship of the stitching seems excellent!! If our quilt had any odor to it all it was a new pleasant smell. The price was difficult at first but in this case you really get what you pay for.
Accomplice 850 - 20 Deg - Regular
This quilt is well worth the money. I have a 20 degree with the 850 filling and it works perfect. I always camp with my girlfriend and we've always been warm, haven't tested it fall season yet. We have a 2 person air mattress we use when backpacking which also really helps (no strapping things together or any nonsense with seams). The quilt is very light, very compactable. My only constructive criticism is the stuffsack that comes with it could be a little better. Overall very pleased though. I'll be sure to provide more updates once I use this in some colder conditions.
Best Backpacking Couples Sleep System
After searching for years for the at home feel of a down blanket while sleeping under the stars my fiancé and I have finally found the perfect match in the Enlightened Equipment Accomplice and Exped Synmat Winterlite Duo. Zipping two sleeping bags together is ok, but this beats it hands down. Wont ever go back to mummy bags again. You wont be disappointed!
Kimberly I Maine
27th Jul 2017
So warm and light!
We have used our Accomplice once so far in the Adirondack Mountains. It is so light to carry! The colors are beautiful and the material feels great. I was worried about being cold but I was actually warm! We used the straps to hold in our mats and they worked perfectly. We will be using it again in a couple weeks backpacking the Big Basin Redwood Forest. It is a great two person blanket and I highly recommend it!
This quilt performs beyond expectations!
Since receiving our accomplice, my husband and I have used it in CO, ID and OR! We absolutely have been thrilled with its performance! One of the best pieces of gear we've purchased! Thanks for keeping us cozy EE!
Superb for two!
Packs down as small as my 800 fill 15F MH Phantom sleeping bag, but can sleep two! I use it in combination with the Exped Synmat Winterlite Duo. This is a double wide pad and pairs super nice with the Accomplice. Do note you need the appropriate straps from EE; they normally ship with straps sewn to accommodate two pads together, but they do have available ones sized for the double wide. Our Accomplice at 20F 850 fill was plenty warm with a pair of long johns, and the pad, for cool early season nights in the rockies.
Accomplice
This quilt far exceeded our expectations! We took it out the weekend immediately after receiving it and it performed wonderfully in cooler, rainy weather. Thank you so much Enlightened Equipment! We'll be recommending your products to others!
Accomplice
I bought this duel person quilt as a upgrade and replacement for my wife and I. I was using an old synthetic 20 degree bag with a Therma-rest and she had a 20 degree down bag with a Neo-air. We are looking at shaving off a few pounds of base weight with this quilt and two person pad when we cycle tour the great lakes and spend some time hiking in Michigan's upper peninsula. I've already slept outside one night on a 20-ish winter night in the backyard for a test and it was really toasty.
Yeah, it really is that good.
We've had our 20* Accomplice for about 6 months now and I'm continually impressed. This summer we went on a 2-week trip through Arizona and Utah in temps from the low 40s to the 80s and we were able to stay comfortable throughout the entire range without using the pad straps. I bought it hoping to use it on this trip, and EE worked with me to make sure it was delivered just in time. Good thing, too - with four people + our gear, the car was packed to the brim and there's no way our old bags would have fit. The packability of this quilt is fantastic. It packs up smaller than either of our synthetic 20* mummy bags. Not to mention, the weight savings can't be beat. Between the two of us, we've shaved 4 lbs 4 oz from our packs just by switching to the Accomplice. We pushed it just about to the limit this weekend at 25* and 30* and it performed decently well. We coupled it with wide torso-length sleeping pads with R values = 3. We also wore fleece-lined long underwear and thin insulated jackets (Arcteryx Atom LTs), using the hoods to keep our heads warm. Honestly, we were chilly during the 25* night, but we were each able to sleep on and off. We fared better on the 30* night after adjusting the pad straps and the neck baffles, suffering only cold feet. I think we will need to change up our sleeping pad situation and/or grab some down booties for our next winter trip with this bag. Overall, I'd say that the 20* Accomplice performed more like a men's 25* bag, and I would recommend the 10* version as a true 3-season quilt.
Couples, like sleeping at home!
I am not a person who endorses, or even typically recommends gear to others. I (We) bought this quilt with the specific intention of lightweight hiking as a couple. We use extra cheap ccf pads as around camp sit pads, and on top we strap the quilt to two neo air long pads. Quite frankly, its like sleeping on my bed at home. The ability for me (6') I can diagonal across two pads and stretch a mile! There is plenty of quilt! It seems like it fills the entire tent with loft! We have done both wet and cold and have been extremely satisfied with the temp rating. This is very well thought out piece of gear. If you are a couple looking to hike together, this will, or should provide a very solid solution to a major portion of your gear. Bottom line, worth every penny.
Jim Spinner
22nd Dec 2016
so far so good!
My wife and I have only had this 20 degree quilt outside a couple times in the brief period we've owned it. The weight savings and ability to share body heat is awesome. The pad straps work well to keep your pads together and the quilt around you. I don't think it would have been warm enough by itself for her that night at around 20 degrees but was comfortable with me next to her. She tends to sleep very cold and we've been using it as a bedspread also. I am often only partially covered but she loves it. Quality of materials and construction looks to be great, but I'd like to have more time with it before giving 5 stars. I am interested to see how water resistant the fabric is compared to the Western Mountaineering fabric in our previous sleeping bags. This quilt will be extremely multi purpose for us as we can use it at home, in the field, and when and when it's a trip for just Mom or Dad and one of the kids. We will also experiment with layering solo quilts underneath the accomplice in deep cold winter camping. If that works, then we will get even more use out of this quilt and can sell off those 40 below sleeping bags that only get used a couple months of the year.
Lightweight warmth for couples!
Girlfriend and I bought the Accomplice for use on our numerous backpacking trips, and we couldn't be happier! Because we're sleeping together and I'm a warm sleeper, we opted for the 20*, and there have been a few nights where I have been too warm. The packability and lightweight of this quilt are amazing, one of the best backpacking buys I've ever made!
Jennnifer Critchley
20th Nov 2016
Fantastic
Love our new quilt, it packs so small and light but opens up to be more than big enough to cover two people. The quilt is so light it is like sleeping under a warm cloud.
Andrea & Mitch
12th Nov 2016
The best lightweight solution for two!
We love the accomplice! The customization is wonderful for tall people, as there are few lightweight sleeping bags/quilts that accommodate someone who is 6'5". It's even more difficult to find when that person wants to share sleeping space with a significant other! Thank you so much, Enlightened Equipment, for providing an option that fits all of our needs!
Excellent
The Accomplice held up beautifully on our section hike. It was even large enough with my 60 lb dog snuggling with us. The staff is wonderful and very accomodating. Thanks guys!
Best sleep system we've tried!
I bought this quilt for my wife's birthday and have had a chance to use it only three nights, but we both agree that it is the most comfortable way to couples camp. Not only is it as lite as one of our single person bags it gives us a chance to cuddle up close while out under the stars. One of my personal favorite parts of the quilt, and I think my wife can agree, is that we don't feel restricted and are free to roll around in the middle of the night unlike a normal sleeping bag. The product has been great for the few times that we have had a chance to use it and the service is even better. I ordered the quilt I think 8 weeks before my wife's b-day and wasn't sure I would be getting it in time as there was an 8-10 week lead time. I contacted Enlightened Equipment to see what could be done to expedite the order. I was told that a note would be left on the purchase order and to contact them again when the time got nearer. I emailed again a week and a half before my wife's b-day and I was told that it is going to be close and that they should have it shipped by the end of the week. The day of my wife's birthday the quilt arrived, right on time! I can't give enough praise to Enlightened Equipment and will definitely be telling my friends about their products.
Unbelievable
The hype is real. We never owned a quilt before and honestly didn't know they existed before purchasing the Accomplice. Matched with the Exped Synmat Duo, this sleep system can't be beat. Similar to other reviews, my wife looks forward to getting in the tent and cuddling up under the quilt. It has completely changed the dynamic of sleeping outside, and it's very hard to overstate this feat. Technical details: We purchased the 20-degree quilt with the additional moisture stripes. Several occasions we woke up to below freezing temperatures but were cozy and warm (to the point where I was typically sleeping in just mesh shorts and a t-shirt if not just boxers and we actually never used the straps). Many times we accidentally slept in because we were so comfortable and missed the sunrise by a couple hours. Bonus, not only does it weigh less than two sleeping bags but it beats bags in every other category you can come up with. We tell everyone about this thing and can't praise it enough. Buy it, you won't regret it.
Dream come true
This is a really warm and light quilt! Its simple but has well thought out features. Highly recommended!
Amazing warmth & comfort
We have loved our Accomplice - it's crazy comfortable, allowing us to use our Exped Synmat Duo for a perfect night's sleep at 30 degrees. It's super snuggly, and is a favorite blanket, with lots of loft and a super soft shell. The only thing I'd note is that with our mat, the head area is a bit claustrophobic for me (fine for my hubcap), so I never end up snapping it closed - some additional snap placements for adjustable openings would be good. Overall, we're so happy we went with the Accomplice!!
Such A Comfortable Sleep!
Just tried out our new double quilt in the alpine for the first time. It saved us four pounds of pack weight over our two old sleeping bags. And the sleep quality was a revelation. Paired with a couple of good ultralight pads, sharing the double quilt was so much more comfortable than being trapped in a tube bag. So much more like your own bed at home. One of the most comfortable backcountry sleeps we've had, in fact. The temperature probably got down to just above freezing in the hours before dawn, at which point the neck snaps came in handy to prevent the cold air from seeping in. Smart purchase!
Kevin Forster
11th Aug 2016
From winter in Alaska to summer in southeast Asia: Absolutely Perfect!
Couldn't be happier with our Accomplice. We've had it for almost 3 years now , and it has completely replaced our existing sleep setup. From a 3 month bike tour in China to desert camping in the southwest US, to dozens of trips in our home here in Alaska. This thing is perfect. Super light. Super warm. I can't help but tell everyone about how great this bag is!
The perfect solution for couples
Our 40 degree bag weighed in just under 28 ounces. Impeccable craftsmanship and accurate rating. Just had it out for 3 nights and the last night got down to 30 with the wind chill. With our light summer insulation jackets on we could have went a little colder and still been warm. The draft tube works great. Don't hesitate to order one if you are in the market.
Love it so far
We haven't had the bag very long. My husband and I have used it for two weekend trips so far. It's super comfortable and roomy and so much better than sleeping in our separate mummy bags. We went with several friends on one trip and a few people said they were very cold at night. We didn't notice the cold. We're taking it to California this summer for a backpacking trip on the JMT. I hope we continue to like is as much on the longer trip.
we're happy campers
Our family with 2 children love these quilts! We bought two 0 degree bags to handle winter snow camping and outings in high Sierra. So far in 6 months, we slept comfortably in well below freezing (not THAT comfortable but relatively speaking) as well as in 30s and low 40s. We have not experienced warmer weather yet, but being quilts, I doubt we will have too much problems. Traveling with children, weight and space savings of Accomplices were priceless!! Definitely recommend to couples and families. Love the hoods too!
Matthew Korn
1st May 2016
The Best!!!
I got the accomplice the the other day and took her out on the maiden voyage this weekend. All I can say is wow. We got a 10 degree rated bag and temperatures got down into the low 30s and I was hot. My girlfriend who is always cold was hot too. Its so light too! this is a game changing product. I wish I had known about it earlier.
Favorite gear, a must-have for couples
We couldn't be happier with our 20 degree Accomplice. So light and cozy and versatile. We've used it into the upper 20's without a problem. The snaps and cinches for our heads provide mummy-like protection in the coldest conditions. The draft collar keeps you from getting blasted with cold air every time your partner rolls over. And we've found it to be equally as comfortable up into the low 50's. Just unclip it and kick a leg out if needed. We recommend the Accomplice to any couple who likes to sleep in contact with one another (although you don't necessarilly have to touch each other if your pads are big enough). The weight savings is also phenomenal!
fantastic
We knew we wanted a double sleeping bag for camping but they are all so heavy! This one is lighter than most single sleeping bags and squishes down small meaning we can take it on a solo trip but also have it for trips we are on together. You can't beat the versatility and it is very well made. I look forward to using it for years to come.
Favorite Piece of Gear
I bought this before a fall trip to the Catskills. With it, we shredded our pack weights and changed the paradigm of a few couples in our group. The 30 Accomplice kept us comfortable down to 32 with ease and stayed in place, even with out the included straps. The comfort rating is accurate, I now want a 20 degree as well.
Super light and comfy
Exactly what I expected. My wife and I took the 30 degree Accomplice out last weekend in Texas and it packed down very small and kept us at the perfect temperature all night. Well worth the price. So glad I went with a quilt instead of a full bag, especially in Texas where it doesn't get below freezing too often.
Sooooo cozy!!!
My girlfriend and I just finished our PCT thru hike. Halfway through we switched to this 0 degree two person bag, and it is the coziest product I have ever used! There was no night through Oregon and Washington that we were even close to getting cold, and many days I couldn't wait to snuggle up in the cozy bag. As a couple it is very nice only carrying one bag between us, especially as with a stuff sack this bag gets very small. Buying a stuff sack is needed though, the stuff bags provided are not sufficient. Also, watch out if you have a small tent, as the bag is big and can touch the sides of a tent and pick up condensation. But not a huge problem. Overall so worth it and helpful and cozy!
Teton Traverse with the wife.
This quilt was perfect for my wife and I. light, warm, and roomy! Thanks EE
Enlightened Equipment has found a sweet spot for snugglers
My wife and I got into ultralight hiking during our engagement. As the wedding drew near I started getting gear together for our camping honeymoon to the BWCA. One of the things on my list was a two person UL 3 season sleeping system. I eliminated many products because they were too heavy, and after I had the UL gear isolated it became apparent that most of it would be too small for my wife and I (we're 6' and 6'5") so I needed to look into custom orders. The accomplice represented the best value and so ordered an 20 degree accomplice fit for my wife and I (6'9") in her favorite colors (black and grey) 3 weeks from the wedding day. I saw that EE guarantees delivery in 3-5 weeks so I called them and they assured me they would rush the delivery. They came through with flying colors and the bag arrived at my venue 2 days before the wedding. Good show EE! On to the review: Out of the box I found the bag and stuff sacks to be very soft in the hand. The stitching was straight and there was only one down feather that escaped the fabric during shipping. It was poking out when I opened the bag up. It felt like a very high quality piece of UL gear and I couldn't resist trying it out solo on the bed. It seemed plenty long (Halleluiah!) and warm, but I didn't get to test it until a few nights later. Fast forward to our first night in the BWCA, we inflated out Xtherm MAX sleeping pads and stretched the retention bands around both mattresses. There are only a few threads holding the 2 pieces of elastic together that make up each band. We broke one of the bands at the sewn point. Perhaps more stitching is required here. But, my wife wrapped some duct tape around both pieces of elastic and we had no problems the rest of the trip. The other band held up fine. We found the bag has many excellent features to keep its "accomplices" warm. However, on this first trip, my wife and I were in no need of them. We did not use the clips, or the neck enclosures because were just too warm during 50-40 degree nights. I sleep like a furnace, so I was half out of the quilt most of the time while she snuggled up to my warm side. This still left me sweating. I think the clips, neck closures, and flap will be VERY useful during our winter trips around Fargo, ND. The bag was great for snuggling for two. Even if you want to get a little, ahem, romantic. The quilt is a wonderful design and since buying my first one for hammock camping, I have never felt that there is any advantage to the standard sleeping bag. QUILTS ROCK! Did I mention this quilt saved us quite a bit of weight as well? One large UL bag us significantly lighter than two UL bags because it uses far less material and fasteners. WIN! Being UL saved us so much time in the portages. We were able to do them all in one go instead of back and forth like almost every other group we saw. Thanks EE for being a huge part of making our honeymoon cozy. I think this bag will last us years of camping. It's a great value and you've been a great company to work with. I won't hesitate to the accomplice if I start to diversify my UL bag collection. After all, we're going to need a summer bag. =)
Lightweight and Cozy!
We ordered the 0 degree Accomplice. This is our first quilt and we are impressed with how compact, warm and cozy the quilt is compared to our standard mummy bags.
Great bag!
We ordered this bag to use for backpacking, and I will never go back to a traditional sleeping bag again! We ordered the 10 degree version because I usually sleep cold. This double quilt is lighter than either one of our old individual sleeping bags. We used it on a 5 day trip in the rocky mountains. It kept me warm well into the 20's, and I don't doubt it would keep me warm into lower temps as well. The snaps around the neck work really well to keep the quilt in place on really cold nights, but most of the time I didn't even need them! Quilt arrived right on time, too. Highly, highly recommend!
First quilt
After much research, my girlfriend and I pulled the trigger on tan Accomplice about 6 weeks before a trip to the White Mountains in NH. I got nervous as the weeks ticked by since I was unsure of the status of the quilt and I have never ordered any custom camping equipment before. With one week to go I emailed EE asking about the status, since I hadn't heard anything since I placed the order. They responded promptly and let me know that the quilt had entered the production process. They were willing to work with me to arrange faster shipping so that the quilt arrived for my trip. 5 stars for customer service. When I got the quilt I was immediately surprised by how comfortable the fabric was to the touch. With how light the quilt is I was expecting to sacrifice comfort. This is not the case here. I ordered the 20D outside fabric. Although this adds weight, I think it's totally the right choice for a two-person quilt. Part of the appeal of the Accomplice is the extra size and versatility for tossing, turning, and sticking my leg out from underneath the quilt when I'm warm. The downside of this is that you get a larger, ungainly object more prone to catching or rubbing on things you might not want it to. The 10D fabric underneath it is so thin as to be see-through. Perhaps I'm just not familiar enough with the material, but it seems vulnerable for an outer material (it's should be totally fine for the inside though, unless you like to sleep with a knife in your pocket). Temperatures were in high 40s/low 50s with lots of rain. 30 degree bag performed superbly warmth-wise. The footbox did get a bit wet some nights from contact with the ( somewhat poorly designed) tent, but suffered no noticeable loss of loft. The combination of 20D and dridown worked even better than I thought. The sleeping pad straps are light, simple, quick and add a tremendous amount of versatility to the system. It was warm enough that we felt no need to clip the side of the quilt into the straps, but having no gap between our pads all night was fantastic. What really strikes me is the versatility of this system compared to a traditional bag. My girlfriend can clip her side of the quilt down if she's cold to prevent drafts while I provide heat from the other side. I'm a hot sleeper, so I can leave my side open and sleep like I do at home, partially covered to regulate my temperature. A double sleeping bag or two zipped together just won't cut it for our differing sleep habits. Only downside is the size, which I suppose is pretty much inevitable for a two-person sleep system. The provided stuff sack does not help much when trying to fit the quilt into my 35L pack. I *am* confident that it could pack much smaller, provided one found the proper size stuff sack. I'll be looking. I can't remember ever buying a piece of gear that made me want to get outside so badly. Overall this is a fantastic, one of a kind product - I'll certainly be considering a solo quilt for myself in the future.
Dustin Clelen
9th Jul 2015
Secret Weapon.
After years of using other quilt and individual bag systems my wife and I have never had such a comfortable nights sleep as in the Accomplice. We live in Colorado and backpack regularly above treeline. We have the 0 degree, 800 DownTek version of the Accomplice. As measured by my digital kitchen scale, the weight was 1237 grams (equal to 43.63 oz, quilt only), which is pretty amazing for a zero degree bag - only 23.3 oz per person for comfortable, dead-of winter sleeping! For this level of warmth, there is simply nothing lighter. Remember that in addition to having an incredibly warm layer of insulation wrapped around you, you're also SHARING warmth with you sleeping buddy! The price is also unbeatable. For our setup it came out to $235 per person, which is also ridiculously cheap for a bag of this quality, weight, water resistance, and warmth. Literally nothing else like this exists. For pads, we use (and recommend) the ThermaRest NeoAir Trekker. It's not the lightest pad available (though it's close) but the high R-value and rectangular shape was worth the trade-off. We had previously used 'mummy' shaped sleeping pads and found the un-insulated space between our feet not only annoying, but fairly cold as well. In order for any quilt system to work, your pad needs to be absolutely bombproof and extremely warm. The strap system that keeps the pads together seems to be working very well so far. Both of them together weighed 45 grams (1.6oz) on my scale. They do a good job of not only keeping our NeoAir pads together, but the clip system keeps the quilt wrapped around the side of the pad for a sleeping bag-like feel - no drafts! The only issue I can foresee is the potential for them to stretch out. They are elastic, and could potentially break down over time. I'm sure replacements are available. Finally, if you have hangups about quilt sleeping, if you think that sleeping bags are essential for some reason, if you are under the impression that you will be cold or that bugs will get you or that the quilt will blow off in the middle of the night, please take an honest stranger's advice - once you try a good quality quilt (like these), you'll never go back to the bag.
Caroline Donnelly
27th Jun 2015
Like a cloud of warmth
We have used down sleeping bags for years. We got the accomplice to use for camping in Alaska. We just got home today and I want to offer this review. Never have I been so comfortable with so little cover while camping. We timed it and it never took more than one minute for us to get comfortable under the accomplice. We use Big Agnes insulated air mattresses so our " bottoms" are protected on that side. We would slide under the Accomplice and immediately we could feel the warmth gathering . It is like sleeping under a cloud. It is more than wide enough and plenty long enough to cover two 6 ft persons. The price is less than one good sleeping bag and the weight is less than one sleeping bag. It packs down in our Sea to Summit e-vent bag to the size of a basketball. We will never go camping in cold weather without it.
best in class
in the search for the perfect double sleeping bag, this is the third couple sleeping bag we have owned. and, we're done. this bag is well made. offers the perfect balance of comfort, roominess, warmth, and weight. i sleep very hot and she sleeps cold. i'm a side sleeper and tend to toss and turn. she sleeps like a rock on her back. with this set up, we're both happy. great job!
Wife Approved
We bought a 20F DownTek standard size in Sunrise/Aegean Blue. It's amazing looking. The color swatches on the site don't do justice, the colors are vibrant and have "pop". We opted for heavier fabric as Alaska can be brutal sometimes. Coming from a 0F and 20F Kelty down bags, this is a God-send. Packs smaller than the 20F, weighs less than the old 20F, and provides warmth and comfort for my wife and I. Weight and size are small enough that I can solo and not feel silly carrying "extra". My wife sleeps cold, and she stays warm all night. We use Exped Synmat UL9 pads, and the elastic bands hold them together easily. No drafts between pads, and the shoulder hood/flap works very well. Some perspective: TNF sells a 20F down bag that zips with another bag. One bags weighs what our quilt weighs: Half the weight and size at the same price point. For two people, this quilt is a no brainer! Overall, I'm very pleased and look forward to years of use from this quilt. Quality like this is what has gotten my wife to say "Yes" to backpacking beyond the car!
Great for outdoor families!
We recently got the Accomplice and we love saving the bit of space that a "full" sleeping bag would normally take up with down or fill that you just end up smashing into the ground (which doesn't help with warmth or lofting or softness) by laying on it. Totally un-needed and FINALLY someone has remedied that! So, even though as a family of four we do not usually end up considering ourselves "ultralight" folks anymore, we DO appreciate saving an ounce anywhere we can so that all of the high chairs and carriers and baby wipes can be accommodated instead! This makes a great topper for mom and the kids or mom and dad on the rare "date weekend" camping trips we get to enjoy once in a while! Our pads fit the back of the Accomplice and leave us toasty warm without squashing the 'bottom of the bag' with a traditional set-up. We live in the Midwest and most nights even in the summer are chilly - but not being hardcore winter campers we've found that for our favorite seasons (spring and fall outings) this is a perfect addition to keep us warm and light for portages or longer pack-ins.
Very nice, extremely comfortable, could be a bit warmer
This is my first quilt, and I'm extremely happy with it. Certainly a whole lot more comfortable, lighter, and less expensive than zipping together two lightweight sleeping bags. It seems to do a very good job of preventing drafts, and is roomy enough for two that it feels a lot like sleeping under the quilt at home. I'm a warm sleeper, and was expecting the 20 degree quilt to be a little warmer. Haven't used it on a night below 35 yet, but it seems like it will make a better 2.5 season bag than a 3 season.
Very warm, no drafts. Make sure you have a good mat though.
I bought a 20 degree F (-6 degree C), charcoal 10D (inside) and olive 20D (Outside) Accomplace for my wife and I. Up until now we had only hiked together during summer, didn't want to spend money on two separate winter bags and we didnt want to carry the extra weight either. Out of the box my first impression was how good the material feels - very light and soft to touch. Obviously, this means extra care needs to be taken when handling it. Sleeping, the material feels really good against the skin, but I'd wear at least a shirt and light pants/base layer to wick up any sweat should you get too hot, to prevent damage to the material and also for comfort sake. As for warmth, we were hiking in the Blue Mountains near Sydney Australia where night time temps get down to between -3 and +2 degrees C (roughly 30 degrees F), no snow. The 20 degree quilt was perfect for this temperature, with moderate rated thermal base layers on. My only word of warning to those that aren't sure - make sure you're sleeping on a mat with a decent R-value, or one that corresponds to the temperature you're expecting. I did a test with a summer/spring self inflating mat in the same conditions and had the unpleasant experience of my top half sweating and my bottom half shivering - a very strange sensation. Easy to avoid if you've got good mats that will insulate the ground well. Drafts: there was plenty of room for the two of us underneath the quilt - I sleep on my side and toss and turn quite a bit, with no issues. We didn't even clip in the sides to our mats. Additionally, if you take a look at the quilt on the pics you'll notice a protruding section in the middle of the quilt, in between where your two heads lie. This is a little piece of simple genius. Not sure if any other quilts have this, but I haven't seen it before. This stops drafts from entering the quilt from between you both - and if you can still feel a little cold air coming in, you can each separately attach a clip behind your head and pull the drawstring. I tend to do this, my wife doesn't. Either way, you will not feel a draft with this quilt. I'm about to try it out under the same conditions but with a 6 foot tall mate of mine (who doesn't mind sharing a quilt if it means saving weight), will be interesting to see if we get the same results. Also - it makes a good throw rug to have around the house on a chilli night when you're watching TV! In summary, it's a great quilt for two at about the same weight as a sleeping bag for one. I'm impressed and would definitely recommend. Make sure you have a good mat to sleep on or you'll be disappointed.
Add a Review